Glos Cricket needs you! Volunteer with us for the 2022 season
6 May 2022
Gloucestershire Cricket is proud and is very lucky to have a team of hard working, committed volunteers who have helped support us on major matchdays for a number of years. With a new season now upon us, we are really excited to begin our search for new recruits to join our amazing team of volunteers for 2022!
We are looking for dependable people to help represent Gloucestershire Cricket in a variety of ways. You don't need to have previous experience or have any knowledge about cricket. Working with us is a great way to make new friends, enjoy matches, give back to your community and become part of the wider Gloucestershire Cricket family.
Why Volunteer with us?
All volunteering is on your time and flexible to work to your schedule
Can help gain an understanding of specific social needs
Build valued relationships within our local communities
Creates opportunities to positively impact another person's life and give back to the local community
Gives you the opportunity to watch the highest level of English cricket, including international matches
Provides a social atmosphere and the chance to meet likeminded individuals
Jess Jones, Community Programmes Officer at Glos Cricket, said: "We are so lucky to have a very reliable and committed group of volunteers, who are vital for the smooth running of events and matches. We are really excited to have the opportunity to expand our volunteer programme, not only for matchdays but for additional community programmes."
Register your interest in volunteering
We have a number of different volunteering roles including matchday support, involvement in charity events and supporting in our community programmes both in Bristol and wider Gloucestershire. Below is a list of current opportunities and roles for volunteers: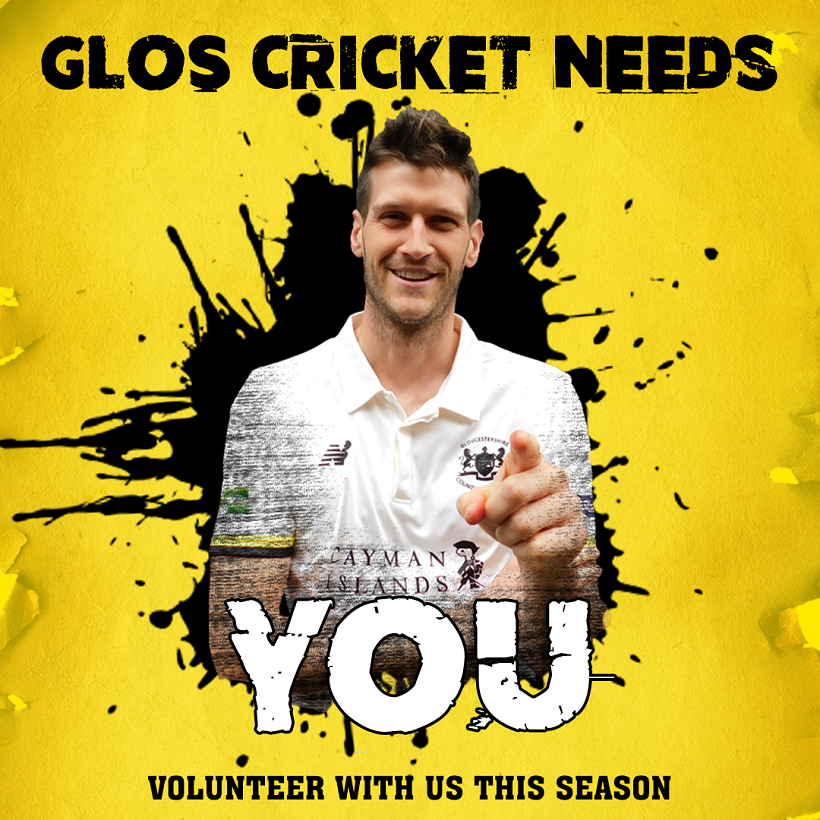 Matchday Support:
Cricketeers – our matchday volunteers
To welcome spectators into the Seat Unique Stadium
To assist with queue-busting at each entrance to the stadium
To answer questions supporters may have about the ground
To assist with the Guard of Honour
To encourage supporters to participate in interval activation
To support interval activation
To support our mascot Alfred visiting young people in attendance
To support the Activation Zone giving young people the opportunity to try their cricket skills
To inform supporters of future match information
To support in player autograph signing
To ensure supporters are happy and guided in leaving the venue
Litter pickers – supporting our post-match operations
As we are central in our community it is vital that we ensure our neighbours aren't affected by our matchdays/events
The aim is to reduce the impact we have on our local community through major matches. We are hoping to bolster our ability to 'tidy up' at pace after the larger crowd attendances of the year
Community Days
In both Bristol & Visit Cayman Islands Cheltenham Cricket Festival
Being part of the team to create a welcoming and friendly atmosphere. These days are vital in ensuring we create an experience that is inclusive to all and engages the local community to be part of the club and to ignite a love of cricket
Community Programmes Support/Extra Cover volunteers:
Sporting Memories:
Spending a small amount of time- perweek creating an environment for others to reminisce. This important time can enhance the lives of a small number of the most isolated individuals in our community who may suffer with dementia, depression or loneliness
Supporting in the running of a variety of sessions at the stadium, other areas in the city of Bristol and wider Gloucestershire
Walking Cricket
Time volunteered to help with the running of the group both at the Seat Unique Stadium during the off season and in other locations during the season
Continue to communicate the needs of the group to the club to ensure all are catered for
Heritage Trust Support
On-site museum support during opening hours – usually during a matchday
As we look to expand the community programmes in both Bristol and Gloucestershire we will always be looking for more support to give back to our community,so keep an eye on the Glos website for further opportunities.
For more details of our Extra Cover sessions, please click here
Charity partners:
Come and support our partners when they are collecting at the ground
Why not fundraises for our charity partners. Click here for more information about the work they do.
If any of the above opportunities sound like something you think you'd enjoy and could support us with, please do register your interest by filling out this form
Register your interest in volunteering
Here's what some of our volunteers from last season had to say:
"I really enjoy the opportunity to meet lots of like-minded people, support the club and of course watching the cricket!" Cricketeer
"It feels good to give my time to help people enjoy their day out, I get to see some cricket and also make friends who have the same interest" Cricketeer
"I like to feel I've done something to make a little bit of someone's day, whether it's a simple hello or goodbye, to selecting them as Apple participants or Golden Ticket winners. I've actually also grown to enjoy and understand the game a bit more too." Cricketeer