2022 & Historical Statistics
Click here to download a pdf copy of the 2022 & Historical statistics.
THE FOUNDING OF GCCC
WG Grace's father, Dr Henry Mills Grace was responsible for the early days of GCCC when he founded Mangotsfield Cricket club. This later amalgamated with Coalpit Heath CC to become West Gloucestershire CC. He eventually achieved his ambition on 2nd June 1870 when Gloucestershire CCC played their first County match against Surrey on Durdham Downs. WG played and led Gloucestershire to victory by 51 runs.
In 1884 Henry Mills Grace launched a proposal to lease some land in Eastville for a County Ground. The land is now home to Ikea and Tesco stores and previously Bristol Rovers FC. These plans were dropped in 1887.
In 1888 negotiations began to purchase some land at Ashley Down and a year later the Ground became home to GCCC. The first game at the Nevil Road ground was on 1st July 1889 against Lancashire. In the same year the County established their Club's colours of Fawn, Brown, Pale Grey, Dark Green, Red and Navy Blue.
HONOURS
County Championship
Gloucestershire have not won the Championship since it became official in 1890, their best position being second in 1930, 1931, 1947, 1959, 1969 and 1986.
Prior to 1890, it is generally accepted that Gloucestershire were Champion County in 1873 (shared with Nottinghamshire), 1874, 1876 and 1877.
Gloucestershire were promoted to Division One of the County Championship in 2019.
Knock-out Trophies
Winners of the Gillette Cup in 1973, the NatWest Trophy in 1999 and 2000, and the Cheltenham & Gloucester Trophy in 2003 and 2004.
Benson & Hedges Cup
Winners of the Benson & Hedges Cup in 1977 and 2000, and the Benson & Hedges Super Cup in 1999. Runners-up in 2001.
Sunday League
Champions in 2000, winners of Division II in 2002 and 2006 and winners of the Royal London One-Day Cup in 2015.
Twenty20 Cup
Runners-up in 2007, Quarter-Finalists in 2016, 2018 & 2019, Semi-Finalists in 2020.
Second XI Championship
Champions in 1959
Second XI Trophy
Runners-up in 1995 and 1997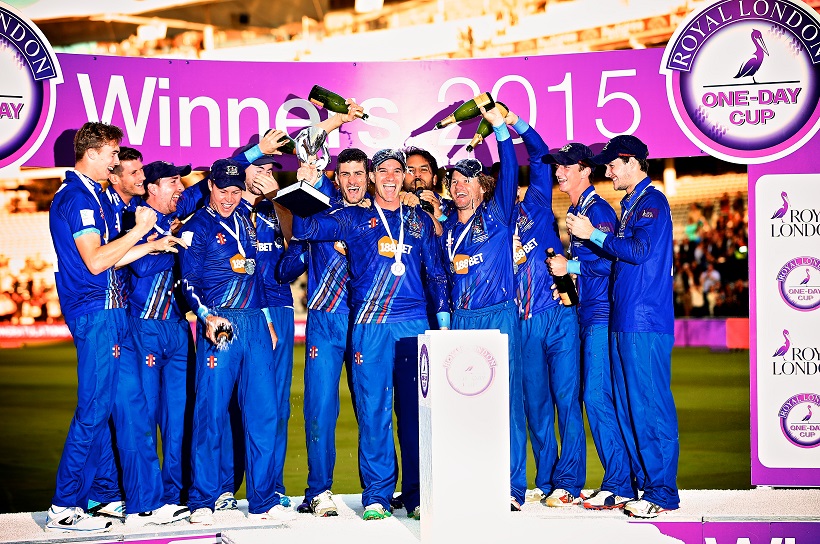 W G GRACE
He was born in Downend, Bristol on 18th July 1848. The son of Dr Henry Mills Grace and his wife Martha, William Gilbert Grace was one of 8 children. Dr Henry Mills Grace was an avid cricketer and taught WG and his 3 brothers how to play.
The family later moved to Downend House because there was a large garden and plenty of room for Henry Mills Grace to lay a cricket pitch at the rear of the house. The house can no longer be seen as a supermarket has since been built on the land.
WG Grace not only played cricket but also golf and curling. He was also a good shot and a skilful fisherman. His athleticism was proven when two days after scoring 224 not out for England v Surrey in 1886, he won a race at the national and Olympian Association meeting at the Crystal Palace.
WG Grace was a keen team player and he once took a taxi from Lord's, where Gloucestershire were playing to the Oval to fetch Mr Midwinter to play for Gloucestershire after playing for Australia on the same day.
WG Grace played in the first ever Cheltenham Festival match where he took 12 wickets and helped to beat Surrey by an innings.
Cheltenham Cricket Festival
Cheltenham Cricket Festival is the longest running Cricket Festival on an out ground (Festival Ground) in the world. It was started by James Lillywhite in 1872 with the first match being played against Surrey and was won by Gloucestershire. No other Cricket Festival in the world has been played on the same ground for that length of time and no other cricket festival in the world lasts for twelve days or more.
In 1872 an invitation came for the team to play at Cheltenham College. The match was organised by Lillywhite, who at the time was the cricket administrator and coach at the college. He was originally from Sussex and had come to Cheltenham College in 1855 at the age of 30. He lived with his family in Montpellier, in a building immediately opposite Le Petit Blanc Brasserie. The family occupied the upper floors of the building and on the ground floor, Lillywhite ran a sports shop. He also founded "Cricketers Companion", a rival to Wisden.
It was originally customary for a band to play at all matches at both Clifton and Cheltenham College Grounds, although in 1874 a motion was put to the committee for this to be discontinued but was defeated by one vote and the band continued to attend and play.
In 1873 Lillywhite was allowed £10 to manage another County Game at the College Ground and, in 1874, he was paid £45 and £35 for expenses. By 1878 the annual Cheltenham game had proved so popular the College Council gave its permission for the occasion to be extended to two matches, and so the "Cheltenham Week" had arrived. Lillywhite was consequently paid £120 for the organisational duties, including his local expenses.
In 1878 the committee obtained tenders "for putting canvas around the College Ground", and fringe events also took place. These included a banquet in honour of WG and his team at The Plough Hotel.
In 1879 the County Committee suggested that all five Gloucestershire home matches were to be played in Bristol but the majority voted against this motion and the Festival continued.
James Lillywhite sadly died in 1882 but his son-in-law, Edwin Lawrence, took over the Festival organisation and successfully continued in his footsteps. The following year the entire proceeds from the Festival were handed to James' widow in recognition of the esteem in which her late husband was held during the early years at Cheltenham.
In the late 1800's the committee took over the organisation of the festival and Edwin Lawrence was made an honorary life member of the Club. In 1888 three matches were organised to be held at Cheltenham, but one of the games was played at Charlton Park, not at the College.
In 1898 WG played his last Festival matches at the age of 50 and scored his last century for Gloucestershire at the College Ground.
The Cheltenham Cricket Festival continues to be held each year at the Cheltenham College Ground, amongst the magnificent college surroundings.