Extra Cover, Gloucestershire Cricket's social inclusion programme, accommodates an increasing number of opportunities for like-minded people to come together.
As a game, Cricket brings together people of all ages, backgrounds and upbringings. It allows individuals to thrive in a team setting, balances honesty and competition, and challenges people both physically and mentally. The Extra Cover programme aims to replicate this through its work with our members, supporters and local communities all year round.
---
Walkers & Talkers
The Seat Unique Stadium will host weekly 'Walking & Talking' inclusive sessions.
With the simple aim of bringing people together, the Wednesday mornings will include a stroll around the ground enabling plenty of conversation, a talk from a local personality, and a complimentary cuppa.
Walkers & Talkers is a collaborative project between the Gloucestershire Cricket Trust and Finders Keepers.
To find out more please contact andy@finderskeepersuk.com or community@glosccc.co.uk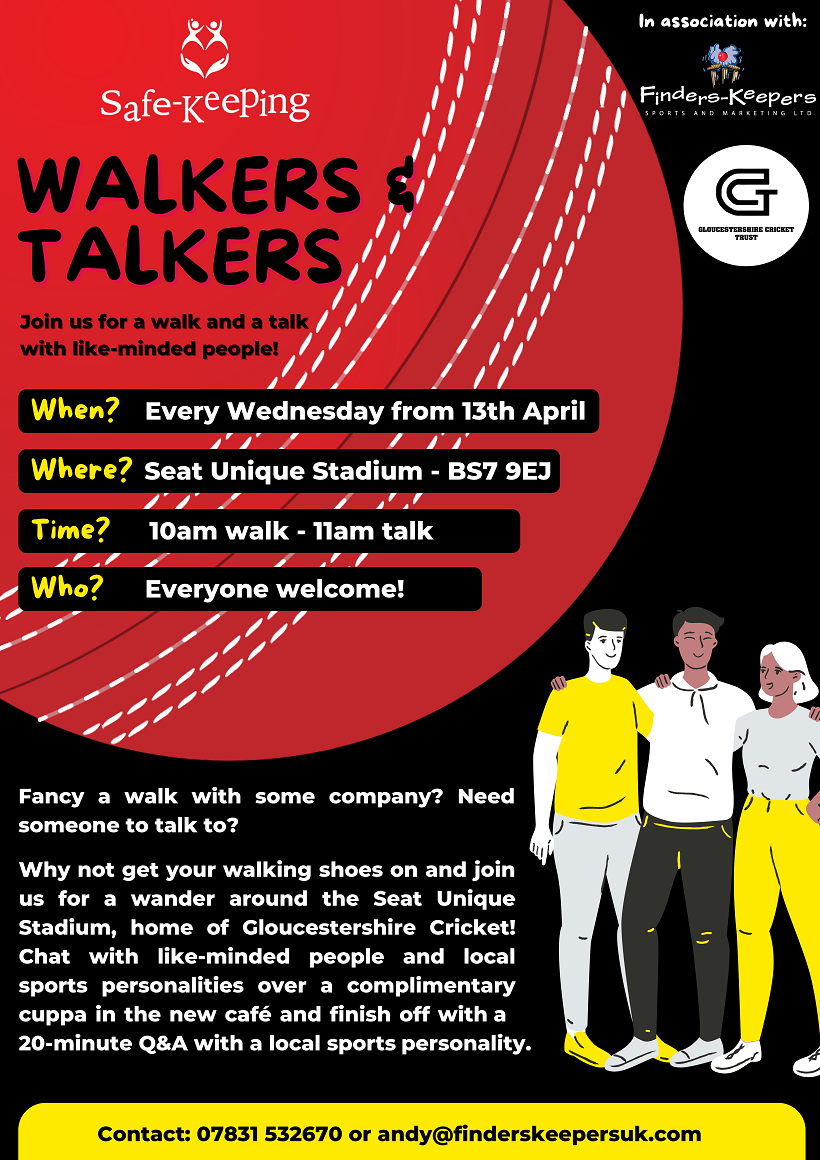 ---
Sporting Memories
The Sporting Memories Network launched their unique project at professional sports clubs across the city - including Gloucestershire in 2014.
Each week, small groups have been getting together in the Bristol Pavilion to reminisce about their favourite sporting memories.
The reminiscence groups start by looking at photos of legends from Gloucestershire Cricket, the wider world of cricket and also other sports stars from across the years. Conversations are also sparked by looking at sports reports, memorabilia and in some cases, former players from the club will go to meet the participants.
By tapping into this love of sport, older residents who struggle with their short term memory find their own happy and treasured memories from watching or even playing for Gloucestershire Cricket flood back.
People interested in volunteering to facilitate or support these groups or if they know someone who could benefit from attending the groups can find out more on their website, please Click here
Sporting Memories have sessions at the following venues:
1. Empire Sporting Chance - Weekly group
Every Monday 2-3pm
The Mill, Lower Ashley Road, Easton, BS5 0YJ
---
2. Bristol Community Link North – Provided for members with learning difficulties (group full)
Tuesday 10:30am – 12pm
Lanercost Rd, Southmead, Bristol, BS10 6HZ
---
3. Frenchay Cricket Club – Monthly group
Wednesday 16 March, 13 April, 11 May, 15 June - 10:30am-12pm
Common Mead Ln, Winterbourne, Bristol, BS16 1QQ
---
4. Bristol Community Link Central - Provided for members with learning difficulties (group full)
Friday 10:30am-12pm
Russell Town Avenue, St George, Bristol, BS5 9JH
---
5. Bristol Pavilion @ Seat Unique Stadium
Every Thursday on non-match days - 12:00-13:30
Seat Unique Stadium, Bristol, BS7 9EJ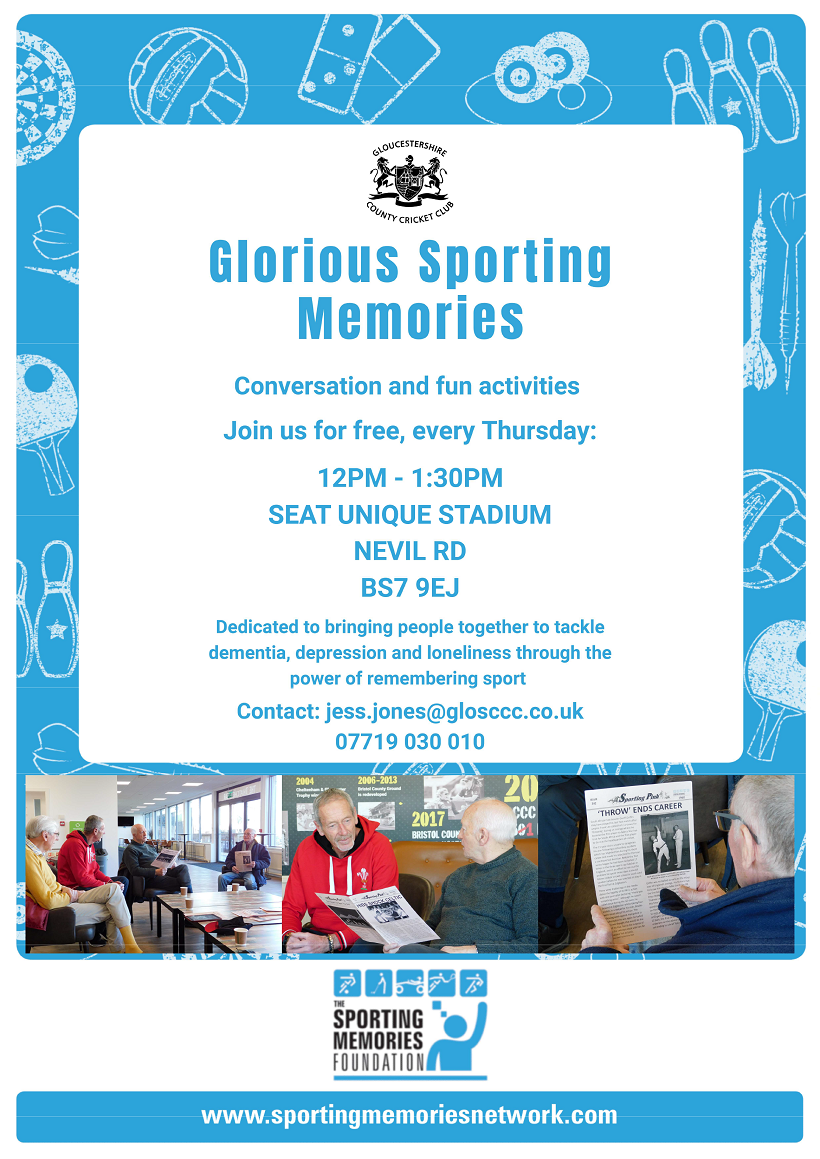 ---
Walking Cricket
Gloucestershire Cricket host walking cricket sessions which take place every Thursday at the Shine Community Sports Hall in Henleaze, Bristol.
Walking cricket is a specially adapted game using a pairs cricket format, played with a soft ball.
We have a very friendly group who come together once a week to socialise with friends, meet new people, get active and most importantly have fun.
The details are as follows:
Wednesday: 1:30-2:30pm at Shine Community Sports Hall, Brecon Rd, Henleaze, Bristol, BS9 4DT.

Friday: 11am-12pm at Easton Leisure Centre, Thrissell St, St Jude's, Bristol, BS5 0SW.

FREE ENTRY
Walking cricket is available for people over 50's across the City of Bristol.
To find out more, please contact Jess Jones on 07719 030 010 or email jess.jones@glosccc.co.uk