U15s Boys County Age Group - Season Review & Award Winners
6 October 2021
The U15s side got to experience many differing formats throughout the season which included a 2-day match at Devon against Great Rissington CC.
The match ended up in a draw, and the highlights included a 4-wicket haul for Luke Hope and a superb knock of 80 from Freddie Sharp. A special mention to Freddie Sharp who notched up 4 50's in the season.
Another highlight for the side was a home fixture at Thornbury against Cornwall, where batting first Gloucestershire amassed 300 plus runs inside 45 overs in an ECB cup match.
Ottie Landale hitting a magnificent century with great support from skipper Max Dunne who compiled 58 not out. The side taking victory by 123 runs.
The boys really showed their character and determination in an ECB Cup fixture against Devon, where Gloucestershire were chasing a low total thanks a brilliant spell of bowling from Lysander Tarrant who took 4 wickets for 28 runs.
Taking victory by 1 wicket, thanks to a valuable last wicket partnership between Jacob Stevenson and Mason Lingard who saw us across the line!
U15s Manager Chris Germaine said 'the lads have played a full and varied fixture list, experiencing all formats of the game, which has been beneficial in their development. Expertly led on the field by Max Dunne, the boys played a positive brand of cricket, learning after each game.'
Performance of the Year
Playing against Wales in a T20 match, this player carried his bat throughout the entire innings hitting an array of shots to reach an outstanding 131 not out off a mere 67 balls. His knock included 24 boundaries and capped off his season by averaging 40.64 and scoring 447 runs. The U15s Boys Performance of the Year was awarded to Ottie Landale.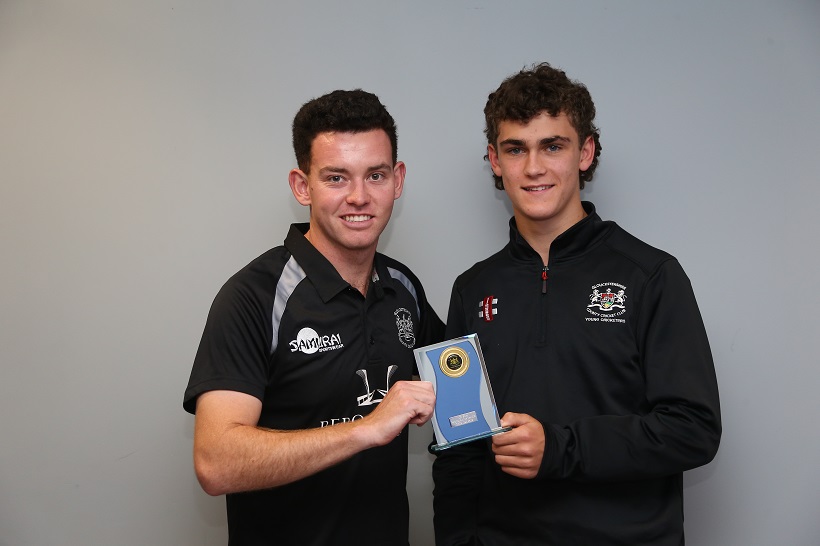 Player of the Year
An impressive record sees this player pick up the Player of the Year award. Not only did he score 269 runs, averaging over 25 with a high score of 71. He also claimed 22 wickets at an average of 17.36. Manager Chris Germaine said this player grew in confidence and stature as the season progressed as he grew into his game and exploited his strengths. A superb bowling all-rounder in the making, this years U15s Boys Player of the Year goes to Lysander Tarrant.