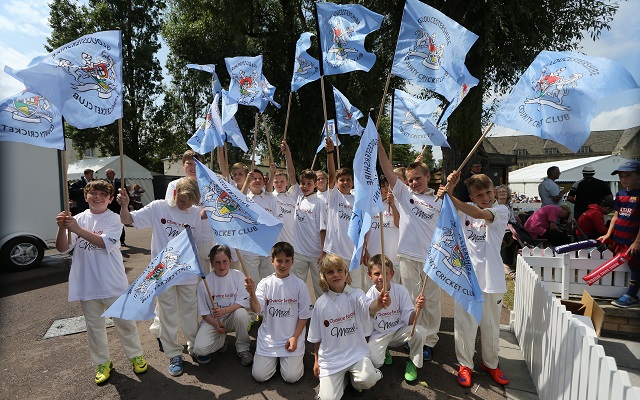 This page will contain visitor information ahead of the up-coming NatWest T20 Blast match
Match Day Information -
We look forward to welcoming the supporters and members of Essex Cricket to The Brightside Ground, Bristol for our NatWest T20 Blast match on Sunday 13 August.
This match is also our annual Family Day!
Gates open at 12.00 pm, match begins at 2.30pm
Gloucestershire v Somerset
 
First Session
2.30 pm – 3.45 pm
Interval
3.45 pm – 4.00 pm
Second Session
4.00 pm – 5.15 pm
Tickets - 
Ticket info:-
Members need to show their membership card at the gate for entry.
Please check your tickets before you arrive at the ground.  All ticket purchasers who selected print at home, must also print off the accompanying email.
The main entrance to the ground is the Ashley Down Road entrance, postcode BS7 9LU.
If you are collecting tickets, please arrive at the Nevil Road entrance.
Parking -
The Nevil Road gate will be shut to both vehicles and pedestrians until 2hrs prior to the start of play on match days, without exceptions.
Parking for pass holders (including Premier Club members) and Blue Badge holders will be available on a first come first served basis in The City of Bristol College car park prior to this 2 hour window and then within The Brightside Ground itself once we are within the 2 hours before the scheduled start time. The College car park is located on College Road, off Ashley Down Road.
If using a satnav, you should use the postcode BS7 9LR.
Please also note that there will be no parking within the Brightside Ground at all for the Somerset T20 match on Friday 4th August and that Nevil Road will be closed to traffic from 4.30pm.
As above, for all T20s, access gates will only be open two hours before the start of play, no entry will be allowed prior to this.
Due to limited parking being available, we are encouraging all supporters to travel by public transport where possible. Click here to view to the bus timetable
Bus Service -
The Brightside Ground, Bristol on Nevil Road, is easily accessible by bus: Services 17/17A, 70/71, 72, 73, 75, 76, 78/79* all run within a five minute walk of the main entrance using stops on the nearby Gloucester Road (Services 71, 72, 73, 75, 76, 78/79), Muller Road (Service 17/17A) and Ashley Down Road (Service 70).  All buses operate at very regular intervals, Service 75 and 76 run 24 hours a day.
Train Service -
The nearest train station to the Brightside Ground is Montpelier, approximately 1 mile from the Club and close to other public transport.  The station has direct lines through to Bristol Temple Meads and a regular schedule to Bristol Parkway.
Cash -
We advise that supporters bring cash to the ground as there is only one cash-withdrawal machine available.
Food & Drink -
The Optimum Bar will be serving a selection of food and drink and can be found adjacent to the Bristol Pavilion.
The Stumps Café, which is located at the Ashley Down Road end of the ground (on the main concourse under the apartments) will be serving a range of hot and cold snacks, including pasties and sandwiches as well as hot and cold beverages, including beer, wine and cider.
Additional outlets are located around the ground for food and drink.
All supporters are reminded that due to ECB Ground Regulations, NO ALCOHOL can be brought into the ground for this NatWest T20 Blast Match.
Entertainment -
Our junior supporters can also enjoy FREE access to the climbing wall which will be on site during the match.
The Gloucestershire Cricket bowling cage will also be in action, a chance see how fast you can bowl!
When you arrive make sure you keep an eye out for the FREE goodies we have on offer such as 4 & 6 cards, Glos Cricket headbands and Clappits.  There's also the chance to meet our Mascot, Alfred!
Stewarding -
There will be a number of stewards located around the ground, they will be happy to help with any questions you may have.
Seating -
The Brightside Ground is open plan and supporters are welcome to sit in various stands around the ground.  Our family stand is located in front of the apartment block.
Entry/Bag Searches -
Please be aware that bags may be searched on entry to the ground. Please arrive early to avoid any congestion.
Refund Policy - 
If play is restricted or does not take place at the ground on the day for which this ticket is valid, you will be entitled to an exchange or refund of no more than the match ticket value subject to there being: (a) 15 overs or less (9.5 overs or less in the case of T20 Blast games) because of adverse weather conditions and no result is obtained – an exchange of ticket or a full refund; (b) Other than for T20 Blast games 15.1 overs to 29.5 overs because of adverse weather conditions and no result is obtained – a 50% refund (tickets cannot be exchanged).
In no other circumstances can tickets be exchanged or money refunded. Click here for the full refund policy
Contact Details -
Please feel free to contact the Club with any feedback, or questions, on 0117 910 8000 or via email info@glosccc.co.uk.
Finally -
Don't forget to send a tweet to @gloscricket using the hashtag #GoGlos and we will get your tweets up on the big screen!
Have a great day!