Vote for your Moment of the Year to win Dready artwork
9 November 2020
Gloucestershire Cricket, in conjunction with Club sponsor, the Cayman Islands Department of Tourism, is delighted to announce a six-week competition for your chance to win 'Gloucestershire Cricket in the sea' artwork by Dready.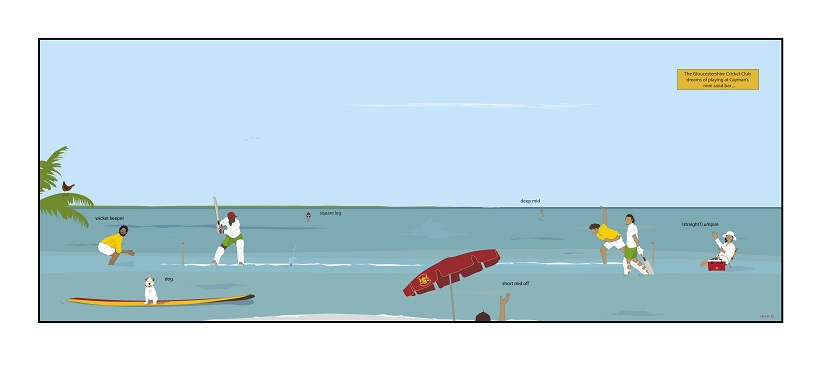 (The art is 36x14 inches and is on canvas and ready to hang on the wall)
Dready is a character and a style of art created by Jamaican born, Caymanian (west Indian) artist Shane Aquart. Dready art has evolved from just images of that character, to a style of art embodying the bold colours, humour, and style of the Caribbean.
Dready is very well known in the Cayman Islands and is an ever growing presence in the rest of the world – Shane ships art, commissions and print series, weekly from Cayman and Miami.
Vote for your Moment of the Year here
To win this one-of-a-kind artwork, all you need to do is vote for your favourite moment of the 2020 season from the six options below:
1. James Bracey's sensational stumping against Birmingham Bears at Edgbaston
2. Ryan Higgins superb three-wicket maiden over against Warwickshire in Bristol in the Bob Willis Trophy
3. Ian Cockbain's demolition of Tim Bresnan at Edgbaston
4. Ryan Higgins' winning runs against Northants Steelbacks to secure The Shire's first Finals Day appearance since 2007
5. Tom Smith's winning runs against Somerset to knock our rivals out of the T20 competition
6. Benny Howell's return against Somerset in the Vitality Blast in Taunton
Vote for your Moment of the Year here
We will be doing one feature a week on each magic moment on the Club's website and social media channels to help with your choice.
Shane Aquart 'Dready' discussed his inspiration behind the 'Gloucestershire Cricket in the sea' artwork, he said: "In Cayman, we have this spot called 'Rum Point', it has a beach bar and the water off of it is really shallow and people tend to go out there on a weekend to raft up and get some food and drink.
The mini sand bar, at the centre of this art, was a thing for all of us when I first moved back to Cayman. There used to be a volleyball net in the water, and this was part of the inspiration that would help me bring some good cricket memories to life.
As I drew it, as I planned it, the beach began to disappear more and more from the drawing and the idea of playing in the sea, at mini sand bar, took over."
Speaking about the Dready artwork, Chief Executive Will Brown said: "We are delighted to be able to offer Gloucestershire supporters the opportunity to win such a terrific prize. We would like to thank Dready and the Cayman Islands Department of Tourism for such a great competition for our members' and supporters to get involved in.
There have been many stand out moments from the 2020 season, so good luck picking your favourite moment Gloucestershire fans."