Visitor Information | Gloucestershire v Lancashire
25 June 2022
Visitor Information | Gloucestershire v Lancashire
The LV= Insurance County Championship returns to Bristol tomorrow as Glos host Lancashire here at the Seat Unique Stadium. Check out our visitor information to find out what's going on and when…
MATCH DATE: Sunday 26 – Wednesday 29 June 2022
Gates open - 09:00 | Match Starts - 11:00
Tickets are still available here. Prices start at £5 for children, £16 for concessions and £18 for adults. Advance prices will be available until midnight the night before matchday.
Pre-Match Day Information
If you've purchased a ticket it will have been emailed to you already, so you can either print it out at home or have it scanned via your mobile phone at one of the entrances – you must bring one form of your e-ticket with you to the match.
Please read all of the important information that accompanied your e-ticket. It details how to use your e-ticket and what's expected of you at the match.
Access for this fixture is available at either the Nevil Road entrance (BS7 9EJ) or the Ashley Down Road End entrance (BS7 9BU).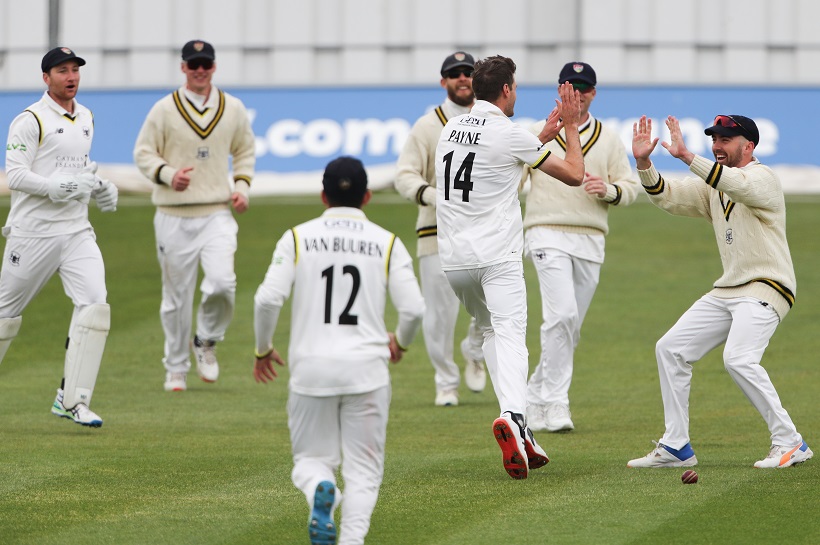 Access for Members
Gloucestershire Cricket Members will be able to gain entry using just their 2022 Membership card. This access is available for all our membership packages, including our all-new Junior Membership and BS7 gym membership. The Hammond Roof, Korev Terrace and Grace Room Member's Section will be all be open to Members for the majority of the game. From the lunchtime session until the end of play on Tuesday, the Korev Terrace will be restricted to hospitality guests only.
Special events
Sunday 26 June - Former Players Day: Around 50 former Glos players will be attending this fixture including the likes of David Lawrence, Mike Procter, Chris Broad, Mark Alleyne, David Graveney, Martyn Ball and Monte Lynch. They'll be celebrating the planting of a new tree at the Stadium to commemorate all past players, and will be available for autographs and photos in front of the pavilion during the lunch interval.
Monday 27 June – Community Talk: For anyone that's always wanted to know more about the non-cricketing side of the Club, we're delighted to be hosting a Community Team Talk during the lunch interval of day two of this match. There will be a chance to meet the Community Team, hear all about the work that's happening now, plus understand more about the Club's community ambitions for the future.
You can also learn more about Gloucestershire Cricket Trust, the club's charitable arm, and how it links up with the Community Team. Anyone wanting to get involved, or to donate to the Gloucestershire Cricket Trust, will be more than welcome.
Tuesday 28 June – School's Day: Over 300 children from primary schools right across Bristol will be visiting the Stadium to enjoy a day's live cricket. They'll be taking part in a range of activities, including cricket skills training, a museum visit and have the chance to meet the players for autographs.
All the children will be seated in the Jack Russell Family Stand, so expect some extra cheering from that corner! It will be a really exciting opportunity for some that have never attended a cricket match before, and it's extremely important that we inspire our next generation of supporters.
What we need from you
All match tickets are unassigned, so you can choose where you sit when you get to the Stadium and meet up with friends easily if they've bought tickets separately.
Should you find yourself sat near someone drinking or behaving irresponsibly, please let us know and the stewards will resolve the situation as quickly as possible. Either speak to a steward or report the behaviour anonymously via text message to the following number: 07860 027799
Please also remember to WATCH THE BALL. When a four or six is hit, the ball could be coming your way, into the stand, at speed. Keep your eyes peeled to ensure you're not taken by surprise.
We're Cashless!
Please be aware that ALL of the Seat Unique Stadium is now cashless, so bring along a debit or credit card for all food, drinks and merchandise purchases.
Take advantage of the Glos Cricket App
Spend more time watching the cricket and use the Glos App to order drinks from your seat – they'll be ready for collection from either the Thatcher's Bar or the Legend's Bar (as selected). You can also use it to stay up-to-date with all the latest news or to buy tickets for your next match.
If you haven't got the App yet, download it now ready for the match!
Download from the App Store (iOS) store.
Download from the Play Store (Android)
Food & Drink
Savoury and sweet snacks, as well as speciality coffees, will be available from our newly-refurbished Thatchers Café. Alcohol will be served from the following bars and stands:
Our new Legend's Bar (plus app order collection point)
Thatchers Bar (plus app order collection point)
The following food stalls and vans will be available:
Burgers & hot dogs
Barista coffee & waffles
Ice cream
Please remember, all these outlets will be cashless and a maximum of four drinks can be ordered per person.
All of our bars use eco-cups. These are available for a deposit of £1 per cup, which is refundable at the end of the match from any bar. When returning your Eco-Cups, please note that you can only return a maximum of 10 cups per person.
Free After Tea!
A full day's County Championship cricket isn't always for everyone or can't always be squeezed in, so our 'Free After Tea' initiative runs throughout every four-day match. Whether you're after a shorter taste of County Championship cricket or you just want to squeeze in a couple hours play after work or school, why not come along for FREE? Just arrive for the final session only and you won't be charged an entry free. The perfect time of day to grab a drink, soak up the sun and see some great cricket.
Hours of Play
Start 11:00am
Lunch 1:00pm - 1:40pm
Tea 3:40pm - 4:00 m
Close 6:00pm (approx.)
Commentary earpieces, scorecards & Glos Merchandise
New for this season, headsets/earpieces will be available from the Club Shop for just £10, so you can listen to live commentary while you watch the game. Those that are partially sighted or blind may pick up a free commentary earpiece from reception (subject to a £10 deposit, fully refundable at close of play).
Scorecards will also be available in the Club Shop for £1.50, together with all sorts of Glos merchandise. For the first time ever, we have a full range of New Balance training wear available, as well as replica matchday shirts, plus caps and leisure wear.
How to navigate the Seat Unique Stadium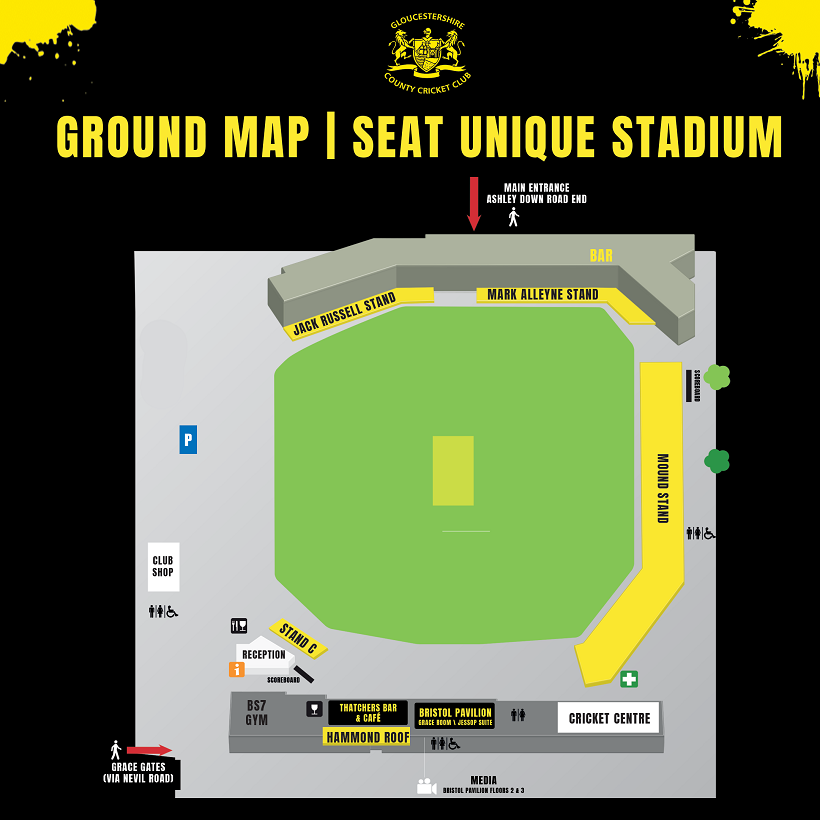 You can download a copy of the Stadium map here.
Parking
Limited parking is available for Gloucestershire Cricket Permit Holders, Premier Club Members, Blue Badge Holders outside the Stadium at the Ashley Down Road end, on a first-come, first-served basis. No parking is available in the Stadium.
Bus Services
The Seat Unique Stadium is easily accessible by bus: Services 17, 70/71, 72, 73, 75, 76, T2 all run within a five-minute walk of the two entrances using stops on the nearby Gloucester Road (Services 71, 72, 73, 75, 76, T2), Muller Road (Service 17) and Ashley Down Road (Service 70). All buses operate at regular intervals throughout the day.
Click here for the First Bus timings.
Train Services
The nearest train station to the Stadium is Montpelier, approximately one mile from the Club and close to other public transport. The station has direct routes through to Bristol Temple Meads and a regular schedule to Bristol Parkway.
Live Match Streaming
If you can't make it to the match, keep up with all the action via our live streaming, available in the match centre here.
Additional Information
You will not be admitted to the ground with any alcohol. Food and soft drinks are allowed.
You will not be admitted to the ground with glass or sharp objects, such as corkscrews or pen knives.
Any confiscated items will not be returned.
Please ensure you bring waterproof clothing along with an umbrella should there be wet weather.
When in the Stadium, bags must not be left unattended for any reason.
If you are cycling to the Stadium, you can park your bike at the bike racks located at the Nevil Road End and Ashley Down Road end of the ground. Please note, parking your bike is at your own risk.
The Premier Lounge will be open for Premier Club Members only.
Please click here for a full list of our ground regulations.
Contact Details
Please feel free to contact the Club with any feedback or questions on 0117 910 8000, or via email at info@glosccc.co.uk
Gloucestershire Cricket want to ensure that everyone is looked after, and that Members and supporters follow the instructions for match days. Please enjoy what should be a fabulous cricket match! #GoGlos 💛🖤