Update from CEO Will Brown
5 February 2021
Dear Members and Supporters,
I hope this message finds you and your loved ones well during this third lockdown period, at what remains such a difficult time for everybody.
With the season a little over two months away we wanted to update you on developments across the Club, the wider game and how the season ahead is shaping up.
Firstly we wanted to recognise the passing of Lord Vestey, former Patron of the Club who sadly died a couple of days ago. "Sam" as he insisted on being called was not only a fantastic Patron of the Club; generous and kind with a wonderful sense of humour but also someone who really cared about his home county. His immense generosity over his 17 years as Patron allowed the Club to develop the ground and invest in the playing squads which no doubt drove some of our cricketing successes, particularly those of the turn of the Century. He was a regular at the Cheltenham Cricket Festival in particular and would be seen stalking the boundary, impeccably dressed and always keen to listen and talk with supporters. I know we will all have our own individual memories of Sam but I'm sure many of them will centre on his wonderful spirit and affability. We have lowered the Club flag to half-mast in his memory and will look to commemorate his life and support of the Club more fully when we are all able to do so. Our thoughts are with all Lord Vestey's family and friends at this time.
In other news you may have seen that John Hollingdale, Club Chair has announced to the Executive Bord that he will be stepping down from his role at the 2021 AGM on the 27th April and will be replaced by current Deputy Chairman, David Jones, who was elected to the role of Chair-Elect at our Executive Board meeting on the 28th January 2021. The role that John has played in developing and supporting the Club over recent years cannot be underestimated and the leadership that John, David and all of the Executive Board have shown through the challenges of recent months has been immense. David has worked incredibly closely with John, other board members and the management of the Club since he joined the board in 2014 and we wish both him and John every success for the future.
Today sees the publication of our fixtures for the 2021 season and it is very exciting to see the reality of the year ahead. The great news is that we are preparing for a full season of Men's 1st and 2nd XI and Women's regional cricket and there are some superb matches to look forward to both at Bristol and at Cheltenham. Local derbies against Somerset and Worcestershire will no doubt be the highlight of the season for some but we know for many just the return of cricket will be fantastic.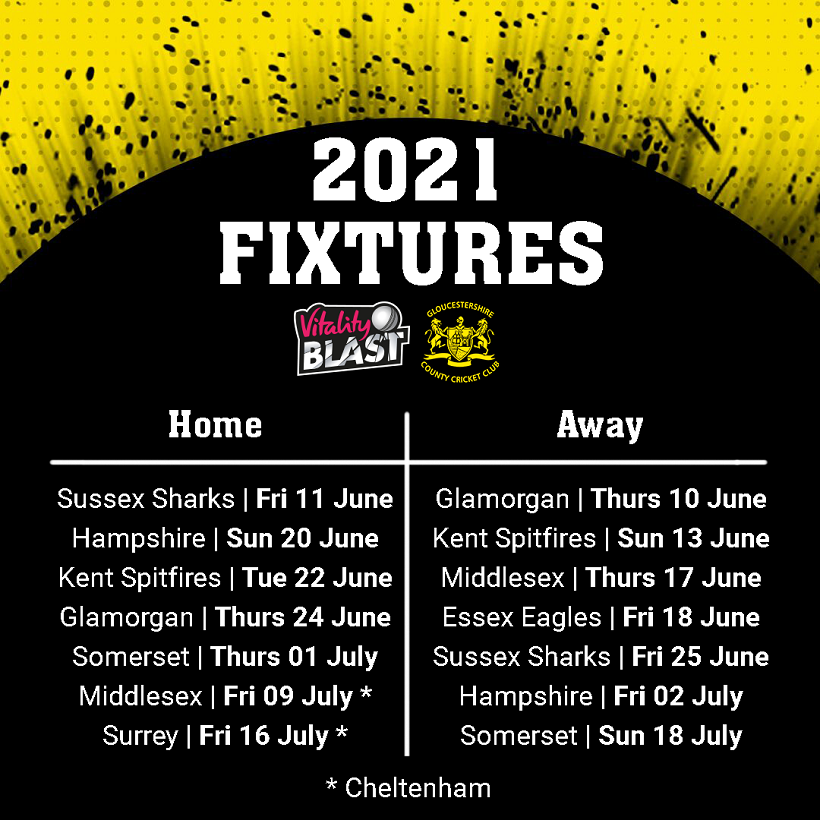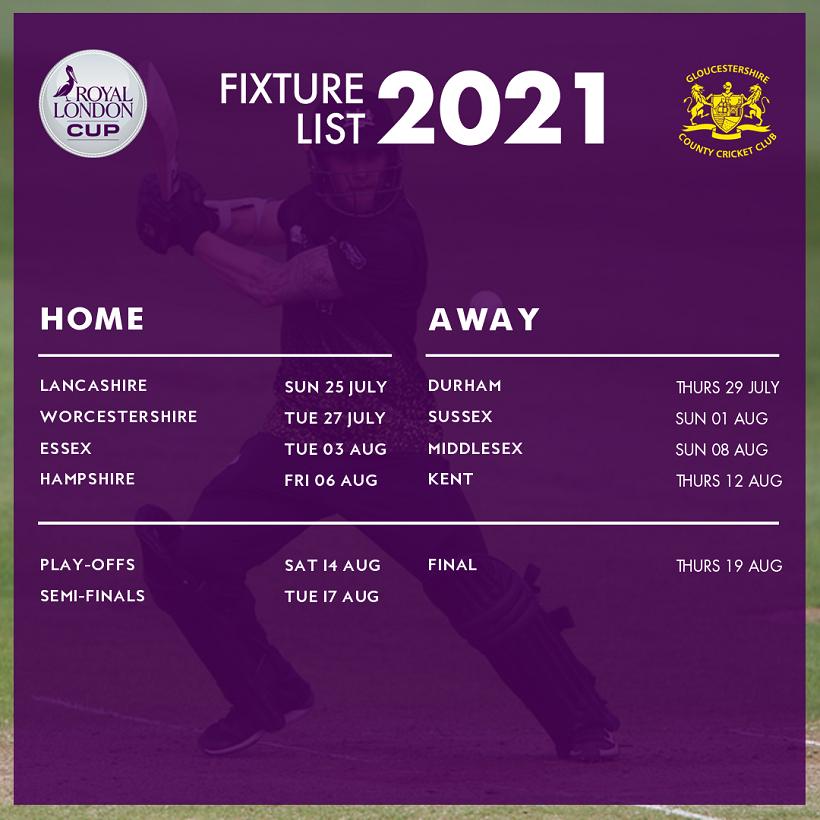 Our professional playing squads returned to training in the New Year under the strictest of protocols and guidance and in anticipation of a highly competitive season. To begin with, this training is very much on a one-to-one basis but over time and when guidance allows we will extend this to broader groups.
It has been fantastic to see our players getting some cricket in abroad, albeit a fortunate few with Benny Howell's time with the Melbourne Renegades and James Bracey's ongoing tour with England of Sri Lanka and now India. The signing of Dan Worrall strengthens our bowling attack and judging by some of his recent performances in Australia he will be very ready for the season ahead.
A big part of the 2021 season will be, we hope, the return of crowds to both the Bristol County Ground and Cheltenham College. Whilst we're awaiting the details of how this might look and the guidance we will have to follow, it is certainly an exciting thought that so many of you will be able to join us in supporting Gloucestershire in person in the year ahead. There is a clearly a huge appetite to watch live cricket as our rapid advance sell-out of our Men's England vs Sri Lanka ODI on July 4th has shown. For our domestic fixtures should we have any reduced capacity we will, of course, prioritise members of the Club.
We've certainly missed seeing you and I hope that those that have received them have enjoyed the recent telephone calls from our staff and playing squads; it's certainly been a joy being able to speak to so many of you and we will continue to make these calls and hopefully speak to many more of you before long. We have been able to see one or two members who live close to the Bristol County Ground and who have been fortunate enough to receive their Flu and Covid vaccinations at the ground. We're delighted to be able to support our local medical practice in their vaccination programmes and, bizarre as the circumstances were, it was great to see some of you back at HQ!
Financially we have just reached the end of our fiscal year and we are now forecasting a surplus for the year February 1st 2020 to January 31st 2021. We are delighted to have achieved this in such a challenging year and are eternally thankful for the support of so many. 2021 will arguably be a harder year than 2020 with significant uncertainties still remaining and many of the measures that supported us in 2020 less likely to be available. As the season develops we will endeavour to keep you all updated with our progress through the months ahead.
In early 2020 we presented our strategy, "Inspiring Gloucestershire 2020-24" to the ECB; a strategy designed to help the Club grow in a sustainable and meaningful way. This strategy has developed over the last 12 months and moments in the year have made us think about hugely important matters like how we act in the context of Equality, Diversity and Inclusivity and adding to the value and importance of being a leader in Environmental sustainability. The last year has certainly challenged us in how we can deliver this strategy but it has also allowed us to focus on those things that are so important to us all; the importance of friendships across the Club, appreciating the privilege it is to work in, watch and play a sport that we all love and how we can play a positive role for the communities we serve. We look forward to listening to your thoughts and sharing our plans with you over the months ahead – hopefully with an ice cream in hand and a cricket pavilion in the background.
All the best,
Will