UES sponsor Gloucestershire Cricket's Business Club App
21 July 2021
Gloucestershire Cricket is pleased to announce Unitary Engineering Services (UES) as the sponsor of the new Business Club app.
The Business Club app, which was launched in February 2021, provides Club sponsors and partners an opportunity to offer their services to all other partners through the bulletin board.
Additionally, the 'my connections' tab improves the way in which our sponsors and partners communicate with each other on one single platform. An in-app messaging service allows its members to communicate with other businesses quickly and efficiently to improve working relationships.

The app allows our partners to be connected to the Club 365 days a year through receiving the latest opportunities, news stories and invitations to all home fixtures and Business Club network events.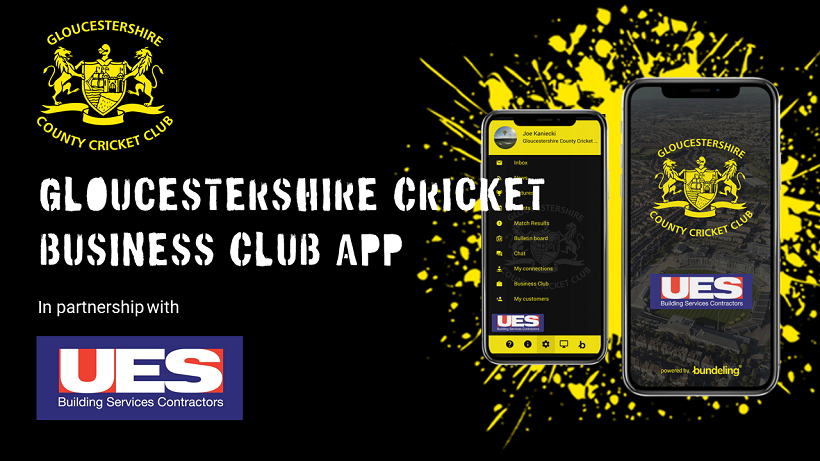 Speaking on UES' sponsorship, Business Development Manager at Gloucestershire Cricket, Joe Kaniecki said:
"The Business app is one of the most exciting new developments that we have introduced to the Club in a number of years. Having UES on board as the main sponsor of our app is fantastic and we are delighted to be working alongside them.
"With digital being one of the key strands of the Club's strategy in the coming years, we feel that our Business Club app will certainly help to take us to the next level of service, and UES being part of this is a great start to our future digital aspirations."
Adam Griffiths, Managing Director at UES said:
"UES are delighted to be the main sponsor of the business app, when Joe explained what was happening at the Club it was an easy decision for us to be involved. With information sharing being a key part the communication between the Club and its members the app works perfectly.
"In addition, we are currently running the Synergy networking group at the Bristol County Ground and part of this is to connect with business partners, we felt that the business app complemented this approach."
For more information on UES, please click here.