Tye and Charlesworth show support for 'Hit cancer for six campaign'
17 July 2019
Gloucestershire Cricket players Andrew 'AJ' Tye and Ben Charlesworth took time out from the Fergal O'Brien Cheltenham Cricket Festival to see how the Focus 'Hit Cancer for Six!' appeal is making an impact.
The appeal makes a direct impact for local people fighting cancer by funding projects in the Gloucestershire Oncology Centre, just over the road from the Cricket Festival site at Cheltenham College.
AJ and Ben saw projects funded by the money raised at the Festival in previous years, including new Iodine Treatment Suites for patients with thyroid cancer which have created a much improved environment and doubled the number of patients who can receive this important treatment.
And they heard about an innovative new project which Focus aim to fund through this year's appeal, meeting project lead Dr Catherine Kendall, Principal Clinical Scientist at the hospitals.
Catherine explained how the hospital's dedicated research team have demonstrated that it is possible to instantly tell the difference between healthy and cancerous tissue by measuring the light emitted when a low power laser is shone upon the tissue.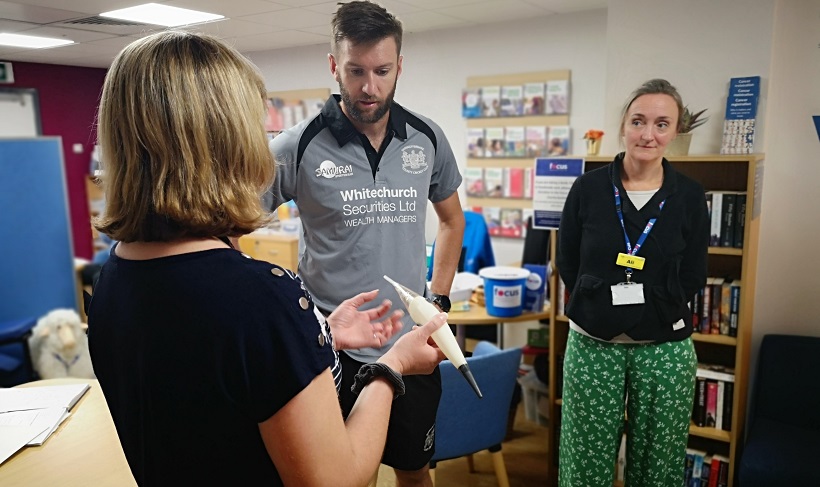 This summer Focus aim to raise the £13,000 needed to develop the diagnostic technique further and demonstrate the potential to benefit people with breast cancer, with the research potentially having many advantages over traditional methods with an instant diagnosis, reduced need for surgery and less long term side effects.
AJ and Ben also extended a welcome for cancer patients to the cricket festival, handing over free Festival tickets for patients who are receiving treatment to Ali Williams Focus Cancer Support Manager.
"It was wonderful to show AJ and Ben how Gloucestershire County Cricket Club's support is making a difference. The cancer team are so grateful for the support in raising funds for new research and equipment, and also in giving our patients free tickets; at a time when patients may be under considerable stress and pain, being able to relax and enjoy the sunshine and cricket is something they really value."
"Thanks to a donation from Growers United and a great start at the Festival we have already raised over £7,000 for the new research, which could make a huge impact for people with breast cancer." Richard Hastilow-Smith, Head of Fundraising.
Find out more at: www.gloshospitals.nhs.uk/charity