Throwback - Alleyne dominates Yorkshire at Lord's
24 October 2019
We take a look at when Mark Alleyne's Gloucestershire side dominated Yorkshire in the Benson & Hedges Cup Final at Lords in 1999.
The sun shone all day on 1st August 1999 as we defeated Yorkshire in the Benson & Hedges Cup Final at Lords. From the moment Mark Alleyne won the toss to the lowering of the curtain when Jon Lewis bowled Chris Silverwood.
We pulverised Yorkshire to claim the first Benson and Hedges Super Cup. Alleyne and his players seized the day and the Gloucestershire supporters cheered themselves silly.
The captain gave them most to shout about, by making his first century in this competition. Alleyne played superbly for his 112, from 91 balls, the foundation stone of Gloucestershire's total, a mighty 291 for nine. Then he deployed his bowlers effectively as Yorkshire, who lost two early wickets, struggled to make a game of it.
By far the most illuminating cricket was the run-a-ball partnership of 157 between Alleyne and Rob Cunliffe, who made an impressive 61. They judged every run carefully, and ran each one for the other as though it were their own. They also played some wonderful strokes, not the usual thumps and clumps often seen in these games.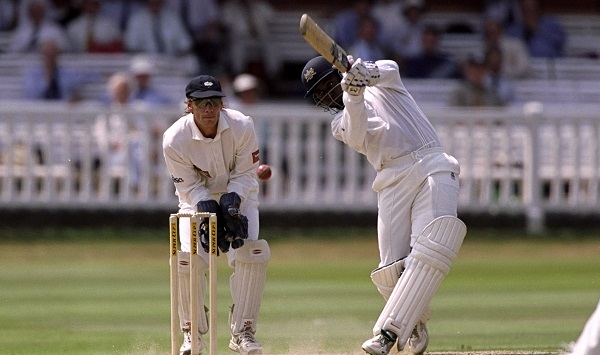 Cunliffe was first to fifty, in 71 balls, but once Alleyne had matched him in 65 balls he swept to his hundred from a further 21. Gloucestershire, whose 30-over score was 123 for two, bludgeoned 168 off the last 20 as the outfield suddenly became too big for Yorkshire to defend comfortably.
For half a dozen blistering overs Alleyne did as he liked. Having seen his partner pick up Greg Blewett for six over midwicket, he lifted Gavin Hamilton so easily over the longer boundary, in front of the grandstand, that it seemed to speak of contempt. Then he drove him over extra cover for six more.
When Alleyne was going so well Yorkshire could contemplate a chase in excess of 300. They pulled it back a bit but, setting off for 292, they needed the openers to flourish. Blewett, however, maintained his indifferent run when he was caught at slip, and when Mike Smith held a return catch from David Byas, Yorkshire were looking at the Matterhorn.
The die had been cast. Nobody could last long enough to threaten the Gloucestershire domination which was endorsed when Alleyne summoned Martyn Ball to ply some finger spin from the Nursery End. White had gone by then, bowled by Lewis, as he swung far from prettily across the line.
Yorkshire picked a bad day to play poorly. The side who trounced Lancashire earlier in the week, were nowhere in evidence. For the 'Gloucesters' it was a day beyond treasure, made truly memorable when Alleyne was named man of the match. He had paid the price in full.