The ICC Cricket World Cup 2019 Public Ballot closes today!
29 August 2018
The ICC Cricket World Cup 2019 Public Ballot closes today at 8.00pm, don't miss out!
The Public Ballot will be open until 8.00pm on 29 August and fans will be able to apply for each of the 48 fixtures, with tickets in each price band at every game available.
Following the unprecedented demand during the Cricket Family Ballot, fans are encouraged to apply for a wide selection of matches as the 10-team round robin stage provides plenty of opportunities for fans to see their favourite team.
Bristol fixtures:
Saturday 1st June 2019 – Afghanistan v Australia (Day/Night)
Friday 7th June 2019 – Pakistan v Sri Lanka (Day)
Tuesday 11th June 2019 – Bangladesh v Sri Lanka (Day)
To apply for tickets in the Public Ballot, applicants must register an account via the official Cricket World Cup Ticketing website. The pre-registration phase started on 17 July.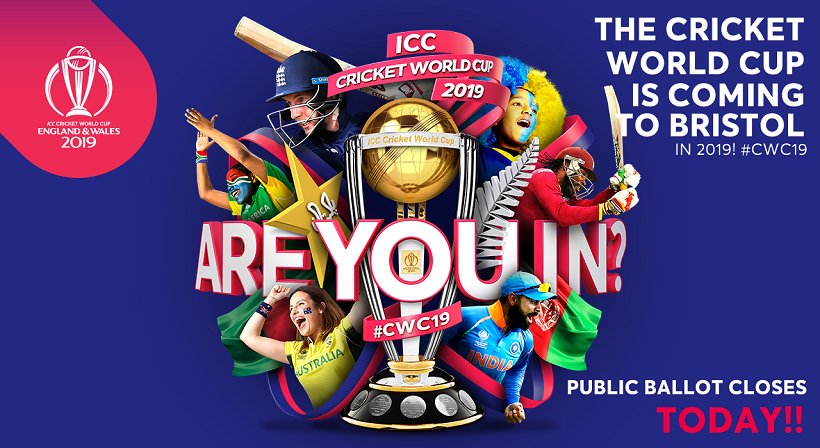 ICC Cricket World Cup 2019 Managing Director Steve Elworthy highlighted the importance of this milestone in the application process, and hopes it has the same success as the recent Cricket Family Ballot.
''1 August is a day we've all been looking forward to as we welcome many potential future cricket fans to the sport. This a great chance for anybody who wants to attend the ICC Cricket World Cup and watch the most exciting and competitive cricket available, as the best teams in the world go head to head.
''Being the third most-watched global sporting event, we know there will be huge interest in next year's World Cup. The Cricket Family Ballot was a recent indicator to how popular we expect this tournament to be, when over one million tickets were applied for.
''What's more, with our price structure for this tournament, which we consulted on widely and used external experts, all games will be accessible for a large proportion of sports fans. Any revenue that we do make from the tournament will be invested back in the game as part of our commitment to grow cricket and engage with future generations.''
Host nation England will open the tournament at The Oval on 30 May when they take on South Africa, while reigning champions Australia start their title defence on 1 June against Afghanistan in a day/night match in Bristol.
Will Brown, Chief Executive, Gloucestershire County Cricket Club said: "The Men's Cricket World Cup will be one of the highlights of 2019 and the Bristol County Ground is set to play a major role in the tournament. Bristol looks forward to welcoming fans from across the globe to witness some fantastic cricket and to receive a warm West Country welcome. We will have some of the best teams in the world play here at the County Ground and it's sure to be a treat for current and new fans alike."
The World Cup will conclude when the final takes place at Lord's on Sunday 14 July.
Any remaining tickets from the Public Ballot will go on general sale on a first-come, first-served basis later in 2018.
For more information about the ICC Cricket World Cup 2019, please click here.