Smith: Forever grateful for precious memories
2 August 2019
Gloucestershire's left-arm spinner Tom Smith has revealed his heart-breaking story to the Professional Cricketers' Trust, less than 12-months after the passing of his wife, Laura.
The 31-year-old has been a mainstay in county cricket, after his debut for Sussex in 2006, he has gone on to represent Surrey and Middlesex before joining Gloucestershire on a permanent basis in 2014.
Smith played a crucial role in lifting the 2015 Royal London One-Day Cup, which included scoring vital runs, and taking two wickets in the final against Surrey, a game his wife Laura, and eldest daughter Rosie attended.
Four years on from the Lord's success, Eastbourne born Smith has had a distressing journey away from the cricket field, which has resulted in raising his two children in Bristol without their mother.
After fighting Primary Sclerosing Cholangitis (a rare chronic liver disease) and bile-duct cancer for 18-months, Laura lost her courageous battle in August 2018.
In a brave video interview, Smith revealed when they found out things would never be the same again.
"I still remember the consultant saying to me that it could be one of three things," said Smith. "It could be liver cancer, which was unlikely, it could be a rare autoimmune disorder, which was also unlikely, and it could be gallstones. It actually ended up being the top two.
"At this point, I was unsure how everything was going to work: I had to take a month off cricket and I had to look after two children. The answer at that point was to bring in a nanny. The Professional Cricketers' Trust funded that which supported Laura at home and gave us as a family some normality in a situation that was far from normal."
With support to look after Rosie and Clara, it allowed Smith to continue his cricket career and a focus knowing Laura and his children were well supported. After a period of stability in managing the illness, things changed with a shattering consequence as Smith explains.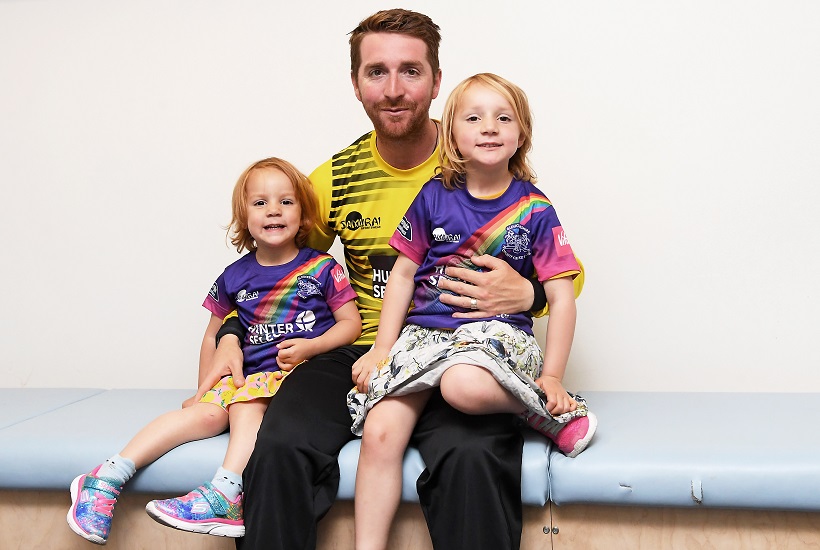 "The consultant sat us down and just said, 'you've got three weeks to live.' I just thought, 'how can you put that figure on it?'
"The children obviously needed to be a priority of ours in understanding what was happening to their mum and I think she got it spot on with them. So much so that now, a year on, although the children have been through a very difficult time, I think it would have been far harder if they weren't so well-informed by Laura.
"The children have been a huge purpose of mine through the last year and have kept me going. I've tried to do everything to give them the future that both of us would have wanted them to have.
"I don't think there will be a normal again but I certainly do feel that things have changed throughout the first year - I think the first few months were just survival."
The Professional Cricketers' Trust, along with Rainbow @ Grief Encounter have been important in supporting Tom, Laura and their daughters. The Trust provides support for PCA members and their immediate families when they need it most – something Tom is eternally grateful for.
"The Professional Cricketers' Trust have given us so much, both financially and mentally. Without them, obviously I wouldn't have been able to play cricket as much as I have done, and I'm also so grateful for the precious moments and family time in the last year of Laura's life.
"We're still having support from them, they're still helping me with a nanny to enable me to go out and play. I feel that when I'm out there I'm closer to Laura in some way, almost as if she's there supporting me like she always was.
"I don't feel the same highs and lows about sport or in life - I just feel pretty flat. As a parent, you want to be in there with the children and loving the highs and lows of being a dad but it's very hard. I don't have those feelings at the moment which is tough."
Tom is going the three peaks challenge for Professional Cricketers' Trust because they have supported him over the past two years, if you would like to donate to Tom's just giving page, please click here
---
Limited edition cricket shirts will be worn by Gloucestershire and Sussex players on Rainbow Day at the Bristol County Ground in support of Rainbow @ Grief Encounter.
Gloucestershire's familiar black and yellow strip will be switched for the charity's dominant colour purple for one match only. It will be the first time in Gloucestershire's 149-year history that the team will wear a one-off charity shirt.
The shirts are part of the major fundraising event on August 4th in which 100% of the proceeds from shirt sales will go directly to the charity that provides support for bereaved children and their families ­– a charity that has supported Gloucestershire's left-arm spinner Tom Smith and his two daughters.
Be part of this special day on Sunday 4 August - Book tickets here
---