Six Thousand Ballot Entries in opening week - England v Sri Lanka ODI 2021
24 November 2020
There has been an overwhelming amount of ballot entries in the opening week for the Royal London One-Day International between England and Sri Lanka at the Bristol County Ground on a provisional date of Sunday 4 July 2021.
Despite going live with the public ballot on Wednesday 18 November, the Club has already received over Six Thousand ballot entries for this highly anticipated fixture between the two sides in 2021.
For those of you who are yet to enter the public ballot, you still have until Friday 11 December to do so. If you wish to be in with a chance of purchasing tickets, please ensure that you enter all of your details on our ballot.
Enter Ticketing ballot here
Please note - if you are a Gloucestershire Cricket Member or a Previous International Ticket Purchaser, you do not need to enter the ballot as you will be sent a priority ticket window ahead of the ballot winners. If you have rolled over your 2020 International ticket(s), you do not need to enter the ballot as you have until the end of January 2021 to make your decision.
Take a look at our Ticket Timeline below: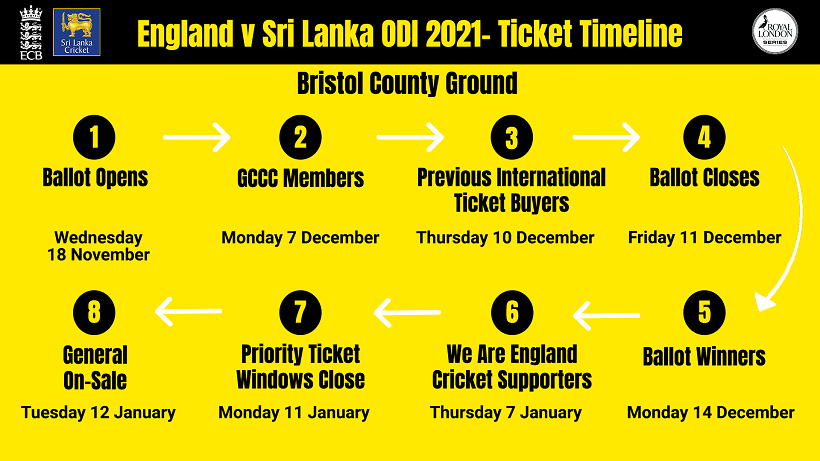 Enter Ticketing ballot here
---
The Bristol County Ground is proving to be one of the most popular venues for one day cricket.
Although COVID-19 interrupted Gloucestershire hosting the highly anticipated ODI between England and Australia in 2020, the Bristol County Ground looks forward to hosting ICC Cricket World Cup Champions England and Sri Lanka in 2021.
England Men's Royal London Series against Sri Lanka
Tue 29 June | England v Sri Lanka 1st ODI | Emirates Riverside, Durham
Thu 1 July | England v Sri Lanka 2nd ODI | Kia Oval
Sun 4 July | England v Sri Lanka 3rd ODI | Bristol County Ground