Royal London Cup – Information Guide
5 February 2021
The Royal London Cup will return to the domestic schedule this summer following a hiatus in 2020 due to the COVID-19 pandemic.
Here are some common questions about the Royal London Cup to ensure you are across all the key details:
WHEN WILL THE ROYAL LONDON CUP START?
The tournament will begin on 22 July.
WHAT IS THE FORMAT THIS SUMMER?
The 18 First-Class counties have been randomly drawn into two groups of nine teams.
Each county will play eight group-stage matches – four at home and four away – with the top three counties in each group progressing to the knockout stages.
The format for the knockout stages are:
Quarter-finals – 14 August (hosted by second-placed counties)
Group A Second-placed county v Group B Third-placed county
Group B Second-placed county v Group A Third-placed county
Semi-finals – 17 August (hosted by group winners)
Group A winner v Quarter-final winner
Group B winner v Quarter-final winner
The winners of the semi-final progress to the Royal London Cup final at Trent Bridge on 19 August.
WHICH COUNTIES ARE IN EACH GROUP?
Group A: Essex, Worcestershire, Sussex, Middlesex, Kent, Durham, Gloucestershire, Hampshire, Lancashire.
Group B: Leicestershire, Derbyshire, Glamorgan, Yorkshire, Surrey, Warwickshire, Nottinghamshire, Northamptonshire, Somerset.
The groups for the Royal London Cup were randomly drawn. The order that they were drawn appears in the above list and has determined the home and away ties.
Example: The first team in the Group will play at home to the second, third, fourth and fifth teams drawn, and away to sixth, seventh, eighth and ninth. This continues – another example is the team drawn seventh; this team will play at home to teams drawn eighth, ninth, first, second, and away to teams drawn third, fourth, fifth, sixth.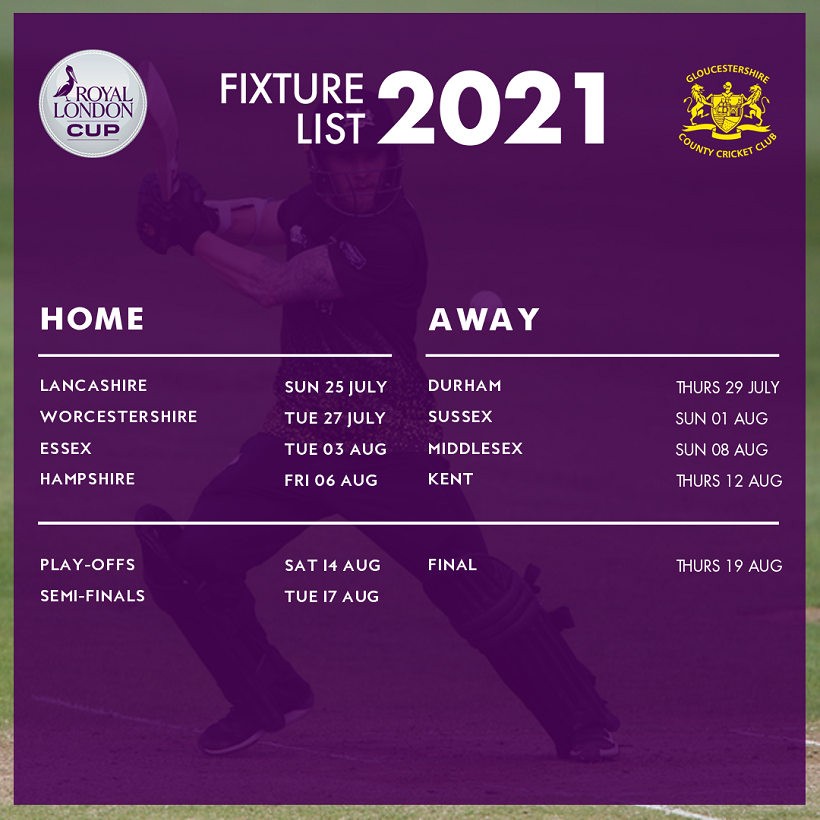 HOW CAN I WATCH AND FOLLOW?
Following last year's streaming of matches we are also set to offer a full programme of live-streamed (non-broadcast) matches on our Match Centre, which you can sign up for free here.
All Royal London Cup fixtures will be available via BBC Local Radio stations with extensive coverage also on 5 Live Sports Extra.
CAN I BUY TICKETS NOW?
From Monday 1 March, we will be running a ballot for 2021 Gloucestershire Cricket Members, previous T20 ticket buyers, supporters who have rolled over their 2020 tickets and the general public.
For the 2021 cricket season, Gloucestershire Cricket Members will be prioritised and at the front of the queue should there be any capacity restrictions.
If you would like to become a Gloucestershire Cricket Member in 2021, please click here and purchase membership today.