Royal London Cup Explained
23 July 2021
The Royal London Cup is back! Here's everything you need to know ahead of the tournament.
When does the competition start?
The tournament began on Thursday 22nd July with five matches played on the opening day. Gloucestershire's first match is against Lancashire at Bristol County Ground on Sunday 25 July.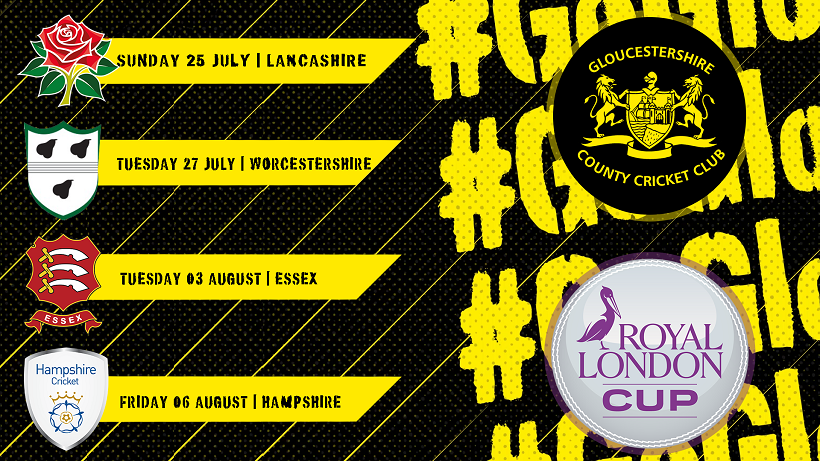 What is the format for this year's competition?
The 18 First-Class counties have been randomly drawn into two groups of nine teams. Each county will play eight group-stage matches – four at home and four away – with the top three counties in each group progressing to the knockout stages.
How do the knockout stages work with six teams?
The winners of each group will automatically qualify for the semi-finals. The second and third placed teams will play off for the final two semi-final places.
Quarter-Finals – Saturday 14th August (hosted by second-placed counties)
Group A Second-placed county v Group B Third-placed county
Group B Second-placed county v Group A Third-placed county
Semi-Finals – Tuesday 17th August (hosted by group winners)
Group A winner v Quarter-final winner
Group B winner v Quarter-final winner
The winners of the semi-final progress to the Royal London Cup final at Trent Bridge on Thursday 19th August.
Who's in each group?
Group A: Essex, Worcestershire, Sussex, Middlesex, Kent, Durham, Gloucestershire, Hampshire, Lancashire.
Group B: Leicestershire, Derbyshire, Glamorgan, Yorkshire, Surrey, Warwickshire, Nottinghamshire, Northamptonshire, Somerset.
The groups for the Royal London Cup were randomly drawn. The order that they were drawn appears in the above list and has determined the home and away ties.
Example: The first team in the Group will play at home to the second, third, fourth and fifth teams drawn, and away to sixth, seventh, eighth and ninth. This continues – another example is the team drawn seventh; this team will play at home to teams drawn eighth, ninth, first, second, and away to teams drawn third, fourth, fifth, sixth.
How can I watch each match?
Tickets are available to purchase here
| | | |
| --- | --- | --- |
| Ticket Type | Advance | On day |
| Under 18 | £5 | £5 |
| Concession | £13 | £15 |
| Adult | £18 | £20 |
What is a Concession?
A concession is an adult who is aged 60+ and also a student witha valid NUS card. Proof of ID may be requested on the gate.
---
All home Gloucestershire matches will be streamed live via the Gloscricket Match Centre. Away matches will be streamed by the home counties.