Remembering Captain Oswald Eric Wreford-Brown
1 July 2016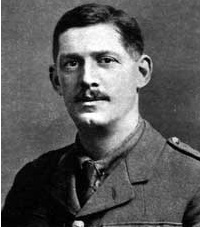 As the nation commemorates the thousands of troops who lost their lives during the Battle of the Somme 100 years ago, Gloucestershire Cricket remembers one of its own, Captain Oswald Eric Wreford-Brown.
Oswald, who was born on 21 July 1877 in Clifton, Bristol was educated at Waynflete, Durdham Downs, and Charterhouse.  At Charterhouse he played both cricket and football and captained the cricket team in 1896.
He made a single appearance for Gloucestershire County Cricket Club in 1900 against Middlesex.  From the tail-end, he scored 5 runs in the only innings in which he batted.
He became a member of the Stock Exchange in 1902.
Soon after the outbreak of war he joined an Officers Training Corps and was given his commission in the Northumberland Fusiliers in November 1914.  He went to France with his regiment in July 1915 and was soon promoted to Captain.  During the Battle of the Somme, he was mortally wounded by a shell near Fricourt on 5 July 1916 and died three days later in a Casualty Clearing Station.  He is buried in Corbie Communal Cemetery, near Amiens.
Somme Diary for Wednesday 5 July 1916: "At 12.45 am, after a 30 minute bombardment, 2nd Royal Irish Regiment and 1st Royal Welsh (22 Brigade, 7th Division), 9th Northumberland Fusiliers and 10th Lancashire Fusiliers (52 Brigade, 17th Division) crept to within 100 yards of the enemy under cover of rain and darkness.  They charged and secured Quadrangle Trench and Shelter Alley.  On the right the Royal Irish, held up by wire, were counter attacked and driven back.  They tried twice more under heavy machine gun fire but with no success, so neither Mametz Wood nor Wood Trench was gained."
His Colonel (Lieutenant-Colonel W A Vignoles) wrote: "None gave his life with greater gallantry or showed greater contempt for danger.  No one was more solicitous for the welfare of his men who loved him so well."
During the Great War, Gloucestershire County Cricket Club lost 18 of its cricketers. Click on the following link to read more about them. Casualties of War
Lest we forget.