Rainbow Day at Gloucestershire Cricket
14 June 2019
Gloucestershire Cricket (GCCC) in partnership with Bristol charity Rainbow @ Grief Encounter will be holding a major fundraising event on Sunday 4th August, known as 'Rainbow Day'.
The Twenty20 fixture against Sussex at the Bristol County Ground will focus on raising awareness for the local charity, which provides support for bereaved children and their families ­– including Gloucestershire's left-arm spinner Tom Smith and his two daughters.
Tom's Story
"On August 23rd 2018, our lives were changed forever when my beautiful wife Laura lost her courageous battle with Primary Sclerosing Cholangitis (a rare chronic liver disease) and bile-duct cancer, after 18 months of fighting.
It was the darkest of days and my eldest daughter (aged 4) was not only struggling with her mother's death but also starting school and settling into new routines.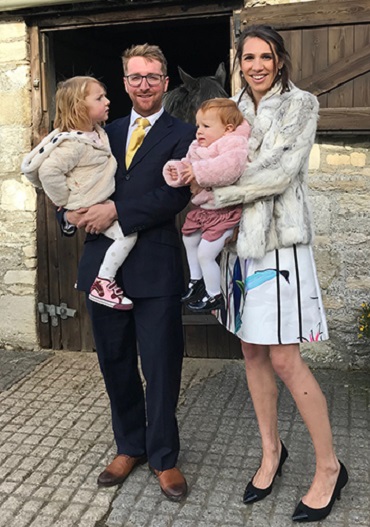 I was recommended Rainbow @ Grief Encounter and they've supported us for the past nine months. They've given my daughter regular play therapy, which has made a huge difference, and I've had the opportunity to meet other widows and share stories, helping us to feel less isolated.
I wanted to channel my emotions into doing something positive so that as many families as possible can benefit from the charity's support and the club have been amazing in helping to organise this event.
Laura brightened so many people's lives and the colourfulness of the day really represents that. This fixture is also extra-special because it's against Sussex, where I started my career and where Laura and I both grew up.
What my family has been through has been terrible, but if we can raise funds and awareness for others affected by grief in the future, then that would be something that Laura would be so proud of."
The charity has invited families they support to come along and enjoy the match, and some of the young people will form part of the Guard of Honour to welcome the players onto the pitch.
Will Brown, CEO of Gloucestershire Cricket said:
"Everyone at Gloucestershire Cricket has been incredibly saddened and moved by what Tom and his family have experienced. In these most heartfelt times, we are pleased to have the opportunity to support an important fundraising drive to help the vital work that Rainbow @ Grief Encounter do.
This event will be one of the biggest of its kind in our proud history. We hope to raise a significant amount of awareness and funds to support this excellent Bristol charity. We hope Gloucestershire fans, young and old, come and support what is sure to be a unique and memorable day."
On Sunday, 4th August, the Bristol County Ground will open its gates at 12:30pm; supporters will be greeted with family entertainment that will run throughout the day. The Gloucestershire v Sussex T20 match will begin at 2:30pm.
Chelsea Harding of Rainbow @ Grief Encounter said:
"We are so thrilled and excited to have been offered this amazing opportunity and partnership with Gloucestershire Cricket. It's support like this that really allows us as a small local charity to spread awareness about grief and the bereavement support services that are available from Rainbow @ Grief Encounter, as well as raising much-needed funds to enable us to continue our vital work.
We are very excited to be a part of this wonderful event and to meet all the supporters. Thank you to all at Gloucestershire for inviting us along and for all your continued support."
Further details of Rainbow Day and how supporters can get involved will follow in the weeks to come.