Professional Cricketers' Trust and Tom Maynard Trust smash fundraising target after mountain climbs
15 October 2019
Fifty dedicated fundraisers in aid of the Professional Cricketers' Trust and Tom Maynard Trust have accomplished the Three Peaks Challenge 2019 and raised over £50,000 with three mountains summited across three days.
The physically demanding trek was made increasingly difficult due to inclement weather on day one in Scotland, which saw the walkers climb Ben Nevis before travelling to England to complete Scafell Pike and then Snowdon in Wales on Sunday. In total, it amounted to 26 miles walked and 3,407 metres climbed on three different mountains in three different countries.
The hike saw past and present cricketers joined by commercial partners, PCA staff, employees from the 18 first-class counties and supporters.
Gloucestershire spinner Tom Smith took part in the challenge in memory of his late wife, Laura.
Shortly after the final fundraisers made their way down Snowdon on Sunday afternoon, the ambitious target of £50,000 was surpassed with donations open until the end of November.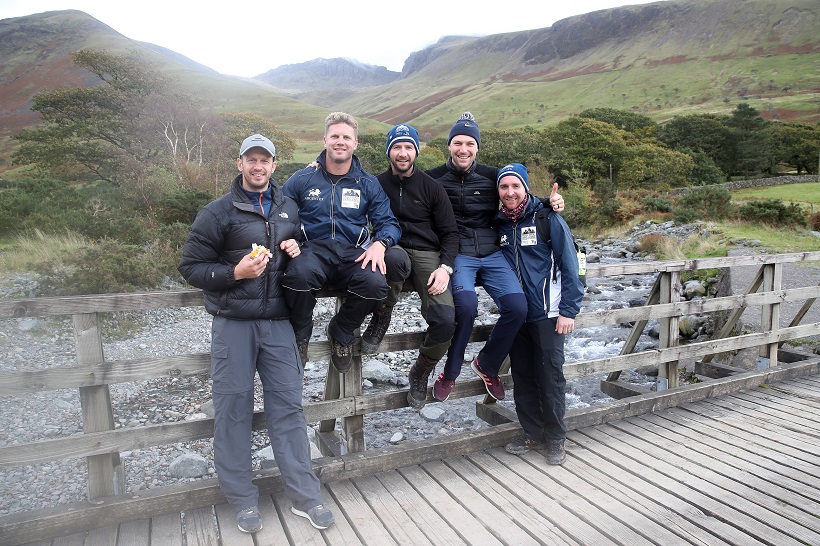 The Three Peaks Challenge, which was proudly partnered with Argentex, the foreign exchange specialists, was the fourth major joint fundraiser between the Professional Cricketers' Trust and Tom Maynard Trust after the successful 'Big Bike Rides' which took place in 2013, 2015 and 2017.
The combined figure for the events, which have now seen challenges cover all points of Great Britain have now, raised in excess of £475,000.
The Cricketers' Trust is professional cricket's leading charity, which helps current and former players and their immediate families, when they have fallen on hard times. A number of beneficiaries have chosen to speak out about their experience of receiving support from the Trust, and you can find more information here.
Whilst the Cricketers' Trust supports players during and after their playing days, the Tom Maynard Trust aims to educate young people in the emerging stages of their sporting career. The organisation aids the development of aspiring sportsmen and women by way of bursaries, provision of equipment and support for overseas placements, amongst other priorities, which include educating young sportspeople of the risks associated to top level sport.
PCA President and former England captain Graham Gooch, who previously supported the Cricketers' Trust on his Coast 2 Coast walk in 2018, led the names on taking on the challenge, was joined by a further eight past, and present England players.
In all, 23 PCA members took on the challenge, including current Director of Development and Welfare at the PCA and Director of the Professional Cricketers' Trust, Ian Thomas and he said:
"This has been a great three days bringing some fantastic supporters of both charities together. The challenge was extremely hard in conditions, which made it all the more challenging. We all know why we were doing it and we worked hard and supported each other to get everyone through it. Supporting the charities in a walk like this was one for the bucket list for many of us.
"When the cricket family pulls together like this it goes to show how we really do take care of our own. It has been a special few days and it is shows how special the game of cricket is at events like this. The money raised in terms of the Professional Cricketers' Trust will go a long way to ensuring the charity continues to support past and present players, and their immediate families, when they need it most."
Matt Maynard, founder of the Tom Maynard Trust, said:
"The Three Peaks Challenge has been a fantastic test for us all. There has been some tough times but also great friendships formed, plenty of banter and more importantly over £50,000 raised for the two charities. Many thanks to everyone for taking part and to all those who have supported us so far.
"Fundraising is still open and we are still looking for more generous donations. On our joint events with the Professional Cricketers' Trust, we have raised just over £475,000, it would be nice to get up to half a million!
"We've started to discuss our joint fundraiser number five for two years' time!"
You can still donate directly to the Three Peaks Challenge with all proceeds going towards the Professional Cricketers' Trust and Tom Maynard Trust via the Just Giving page here.
Cricketers who took part in the Three Peaks Challenge: Chris Ashling (Glamorgan), Ben Brown (Sussex), Dan Cherry (Glamorgan), Kate Cross (Lancashire and England), Nick Denning (Essex), Georgia Elwiss (Sussex and England), Natasha Farrant (Kent and England), Graham Gooch (Essex and England), Jenny Gunn (Nottinghamshire and England), Rob Jones (Lancashire), Laura Marsh (Kent and England), Matt Maynard (Glamorgan and England), Stuart Meaker (Surrey and England), Daryl Mitchell (Worcestershire), Gary Montgomery (Lancashire), Charlie Mulraine (Warwickshire), Ollie Rayner (Middlesex), Gareth Rees (Glamorgan), Tom Smith (Gloucestershire), Tom Stayt (Gloucestershire), Mark Stoneman (Surrey), Ian Thomas (Glamorgan), Matthew Wood (Yorkshire).