Nuffield Health extend partnership with Gloucestershire Cricket
18 April 2019
Gloucestershire Cricket (GCCC) is delighted to announce that Nuffield Health Bristol Hospital, The Chesterfield, will continue as the Club's Official Healthcare Partner in 2019.
The company aim to improve health and well-being across the nation and we are happy to have a partnership with someone that has our players' best interests at heart.
The not-for-profit organisation is not only the Club's official health care provider but also the sponsor to GCCC's lead physiotherapist, David Bartlett.
Sasha Burns, Hospital Director at Nuffield Bristol Hospital, The Chesterfield said:
"We're proud to continue our role as Official Healthcare Partner for Gloucestershire Cricket. We look forward to seeing the players at our North Bristol Fitness and Wellbeing Centre but hope they don't need to make use of our hospital facilities too often during the coming season!"
They have previously attended matches at The Bristol County Ground to provide free mini health MOTs to our supporters. We hope that members of the Nuffield Health team will be back again shortly to do the very same.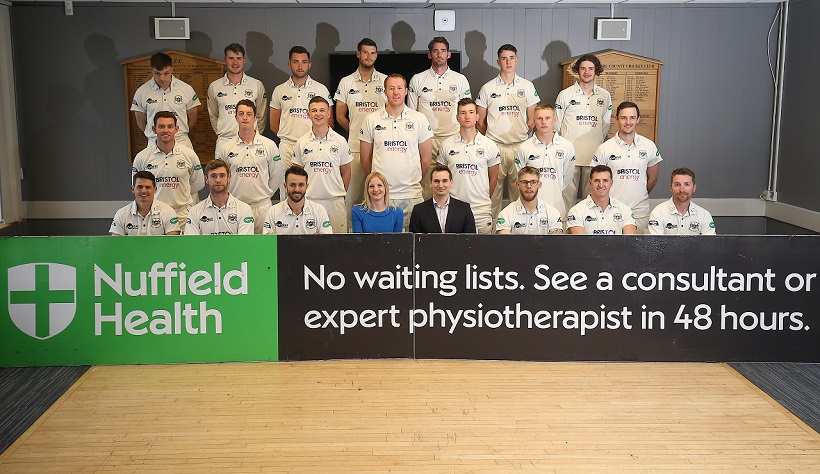 Nuffield sponsored David Bartlett, GCCC Lead Physiotherapist is more than happy with the partnership:
"I'm delighted to have the continued support of Nuffield Health as my sponsor for the upcoming 2019 season. The team at Nuffield are brilliant at supporting us deliver a world-class medical service to the playing staff at Gloucestershire CCC, keeping them fit, healthy and on the field, which in turn will help us win games of cricket."
Nuffield Health Bristol Hospital first opened in the city in 1961 and since then has prided itself on its dedication to patient centered care.
In 2013 the hospital was relaunched following a complete refurbishment and is now home to three digital theatres and combines leading-edge clinical facilities with an outstanding customer experience.