Mrs Marie Journeaux, President of Gloucestershire County Cricket Club Opens new Care Centre in Thornbury
5 November 2018
One of the UK's largest not-for-profit care home providers, The Orders of St John Care Trust (OSJCT), officially opened its newest care facility in South Gloucestershire – Grace Care Centre – on 25 October 2018.
The town of Thornbury has a rich cricketing heritage, and the home is named after the famous Gloucestershire player W G Grace. However, he was not the only cricketer in his family; he was one of five brothers, all of whom were medical practitioners and all of whom played cricket in their spare time. The surrounding area benefitted from their devotion to their profession and their interest in the community – both attributes never ceasing to spill over on to the local cricket field.
To celebrate the home's opening, Gloucestershire's President Mrs Marie Journeaux met residents and employees as she toured the care centre and was shown the communal living/kitchen areas as well as the spacious bedroom and en-suite wet room facilities available to residents. During the visit, she met residents who were making poppies and rock painting and was given a demonstration of the dementia-friendly table tennis table.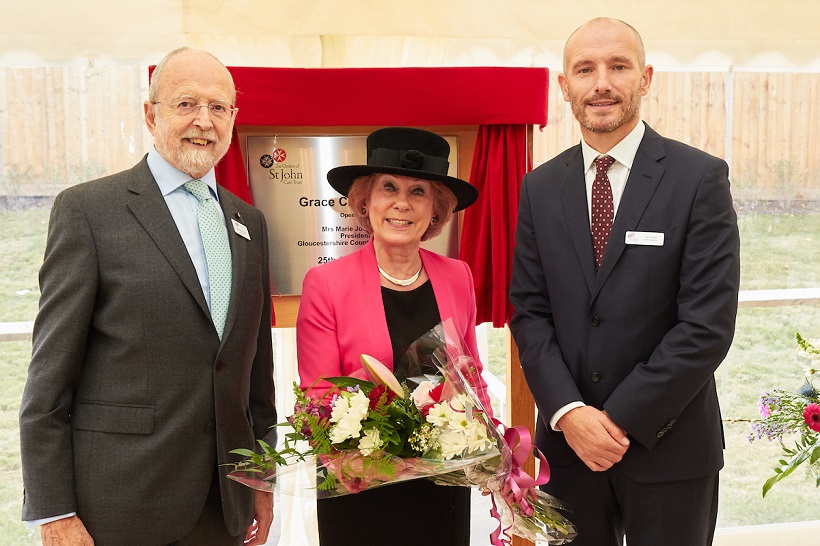 Following her tour, Mrs Journeaux joined gathered guests from the local community and organisations involved in the project for the unveiling of a commemorative plaque to mark the official opening of the care centre.
Grace Care Centre provides specialist person-centred dementia care and is equipped with 48 beds. The care facility is divided into separate household units, each self-contained with its own communal dining and lounge areas, as well as specialist assisted bathing facilities.
With several themed destination areas situated around the home; including a garden room, hair salon and a cinema, the home's design creates a stimulating environment for its residents and assists them with orientation when moving about the building.
Outside, there is a safe and secure garden for residents to access which includes flower beds and a choice of seating areas with different views of the garden.
Dan Hayes, OSJCT's Chief Executive, commented: "Now that its doors are open, we're confident that the home, with the specialist care it offers, will be a great asset to the local area. We also encourage those within the local community to get involved with the home by becoming volunteers and spending time with our wonderful residents."
Mrs Marie Journeaux, President of Gloucestershire County Cricket Club, added: "At Gloucestershire County Cricket Club, we are immensely proud of our founders from within the Grace family and now equally proud to be associated with this new Centre which bears their family name. I congratulate and thank the Order of St. John's Trust for their work and the care they have taken in providing this very special amenity. I wish the Centre every success and to those who live and work here I wish every happiness in their bright and most wonderful surroundings."
---
For more information about Grace Care Centre and OSJCT, call 0800 988 8133 or visit www.osjct.co.uk