Match Preview: Gloucestershire v Birmingham Bears
14 September 2020
It's the battle of the two in-form sides in the Central Group as Gloucestershire host Birmingham Bears at the Bristol County Ground.
Since getting thumped on their home field by The Shire, Birmingham have won three straight and their once lost cause of a season has turned to one filled with hope of a quarter-final berth.
Start time - 2:00pm
In the meantime, Gloucestershire have been praised in every which way during their five-game win streak and are now seen by many as legitimate contenders for what would be a first T20 title.
Rivals Somerset were the latest victims as Benny Howell announced his return to the side with 49* off just 18 balls to help see Gloucestershire to a new record for highest T20 total posted at Taunton.
Meanwhile Ian Cockbain continues to produce showstopping performances. Against Somerset, he notched his second half-century of the season with four more sixes taking him to the top of the maximums scored category for this season's Vitality Blast.
The bowling unit have collectively done exactly what they've needed to: take crucial wickets at crucial times, make game changing plays in the field and most importantly restrict runs.
Considering how the Bears reacted to their last loss it is unlucky Gloucestershire will be able to rattle through their batting order in less than 12 overs again, but they can take confidence from their previous encounter against tomorrow's opponents.
Richard Dawson has named an unchanged squad to face Birmingham: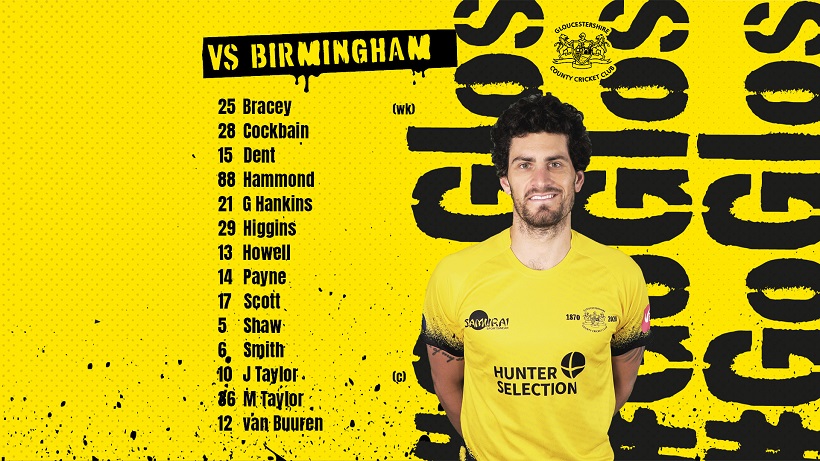 Sam Hain, who was put to the sword the last time round by Tom Smith, has been the Bears best batsman on their current winning run. He hit 55 not out against Somerset in another 12-over match and guided his team to victory over Worcestershire in the last match with 73 not out.
Captain Rhodes has been a key contributor at number five, averaging just under 30 runs in the last three matches. The majority of their runs have come from the middle order as their openers have continued to struggle.
Dom Sibley has been out first ball in the last two matches, Bell and Hose were both out for ducks against Somerset and Yates' 29 against the Rapids has been their highest contribution from the top two all year.
Olly Stone has been the most consistent bowler of late taking seven wickets in their last three matches. Jake Lintott has shown he can be a difference maker with efficient bowling similar to that of Tom Smith although Gloucestershire's spinner has been effective over a longer period this season.
The match will be played behind closed doors but will be free to stream via the Gloscricket Match Centre here
---
BE THE SCORER
Click on this link here to use our FREE scorecard template.