Mark Alleyne to join Gloucestershire Coaching Staff
31 March 2021
Gloucestershire Cricket's most decorated player, Mark Alleyne is making a return to the Club as part of Ian Harvey's coaching team.
Teammates at The Shire for a decade, "Boo-Boo" and "Freak" reunite in Bristol as venerable coaches who both learned their trade at Gloucestershire; Alleyne, the Club's player-coach turned Head Coach from 2004 to 2007 and now Assistant Director of Sport at Marlborough College; Harvey, Richard Dawson's right-hand man since 2015.
On his return to the Club, Alleyne said:
"I am really happy to get involved and help Harvs and the Club for the 2021 season. It is an exciting time for sport generally and cricket, in particular, with a full season in prospect for the players, and it is a great time for the Club, who are operating on the back of a couple of good years and looking to push on even further.
"I have a long working association with Ian Harvey and I love everything about his approach to the game. I am thrilled to get the call from him and be asked to help support him in his new role, and I am looking forward to working with the coaching team and getting stuck in at the Club in the months ahead."
Having captained Gloucestershire to nine trophies and a County Championship promotion in seven years, starting with a Benson & Hedges Super Cup win in 1999, Alleyne is renowned for the success he brought to the Club, particularly in One-Day competition.
His knowledge of the game is something Harvey hopes can be useful for the first team and also the younger cricketers coming up through the ranks.
Harvey said:
"Having Mark back at the Club with what he's done in his career as a player and as a coach will be awesome for the players and only positive things can come from it. We obviously worked well together on the field and I know we both have our own ideas about what he can offer the team so I am hopeful that we can have a fruitful coaching relationship too.
"Mark will work quite a bit with the first team and his knowledge and all those years of captaining a successful team will be hugely beneficial for our team, especially Denty. He'll also spend time with the second XI and that will be an invaluable experience for the academy players learning the game. We're very thankful to Marlborough College for allowing Mark to coach with us while he continues to work there."
Alleyne will be a part of the coaching setup for the duration of the 2021 season and will also fulfil his duties as Assistant Director of Sport at Marlborough College.
Having spent over two decades in Bristol as a player and coach, Alleyne has broken many a Gloucestershire record. He is not only the Club's most decorated captain, and player in general, he is also the Club's highest run-scorer and wicket-taker in List-A cricket.
His contributions to the Club, the locality and the wider Gloucestershire region have been recognised at Bristol County Ground with a mural of him painted by street artist Silent Hobo. This piece of art can be found at the Club offices near the Nevil Road entrance; an additional show of appreciation alongside his pillar in the Legends Walkway.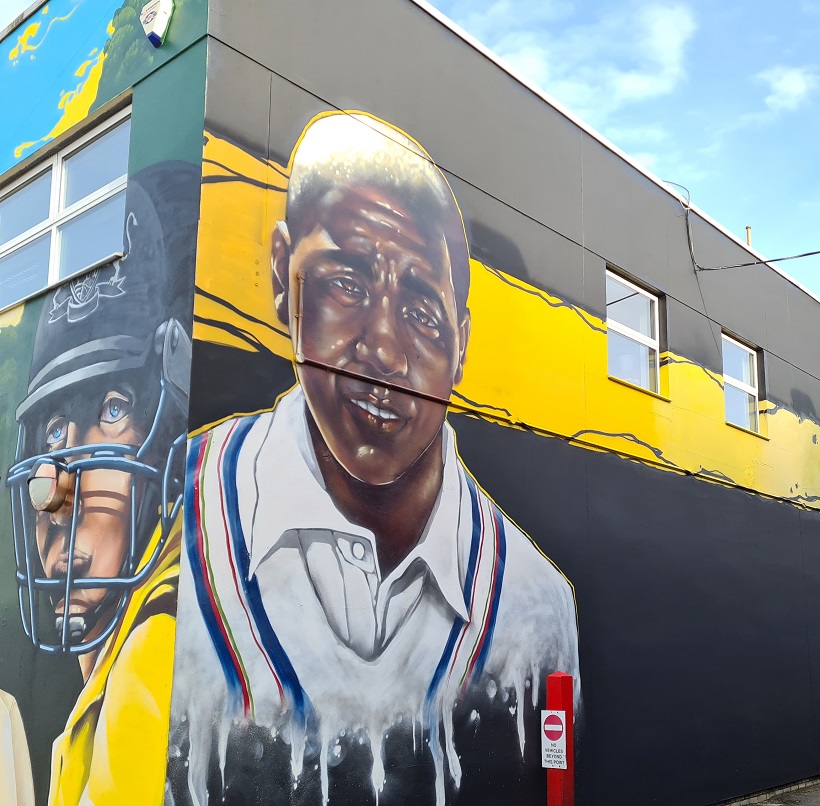 On his street art painting being unveiled at the Bristol County Ground, Mark said:
"It was a proud moment to be told that I was to be recognised in this way, for a contribution to the Club over a number of years. I love it - the art feels alive and of the moment, although it may be a bit weird passing it on a regular basis in the coming weeks!"
Supporters of Gloucestershire Cricket will be able to see this fantastic mural in person when crowds are once again allowed back into the ground on 20 May for the LV= Insurance County Championship match against rivals Somerset.