Hunter Selection become T20 front of shirt sponsor
5 July 2019
Gloucestershire Cricket would like to welcome on board leading engineering, manufacturing, service and technology recruitment company Hunter Selection as our Vitality Blast front of shirt sponsor.
Founder and Managing Director of Hunter Selection, Russell Smith is a life-long lover of sport and graduated with a bachelor's degree in Sports Science from Brunel University.
"We are so pleased to be sponsoring Gloucestershire Cricket in what we are confident will be an exciting season for the club and their young and explosive T20 squad," he said. "The affiliation between our business, which is built around the values of energy, discipline and teamwork and those of a successful sporting side like Gloucestershire, is easy to recognise. Here's to a season to remember."
Hunter Selection has enjoyed great success in its first 15 years, developing from having a single phone line in a small office in Bristol to having 10 teams of specialist recruitment consultants in four locations. Bristol, being the origin site of the company is the home of Hunter Selection headquarters. The other offices are located in Cardiff, Coventry and Stafford.
Nick Willis-Stovold, Director at Bristol also has a strong sporting connection to Gloucestershire having been a cricketer for Gloucestershire C.C.C. from 1999-2003.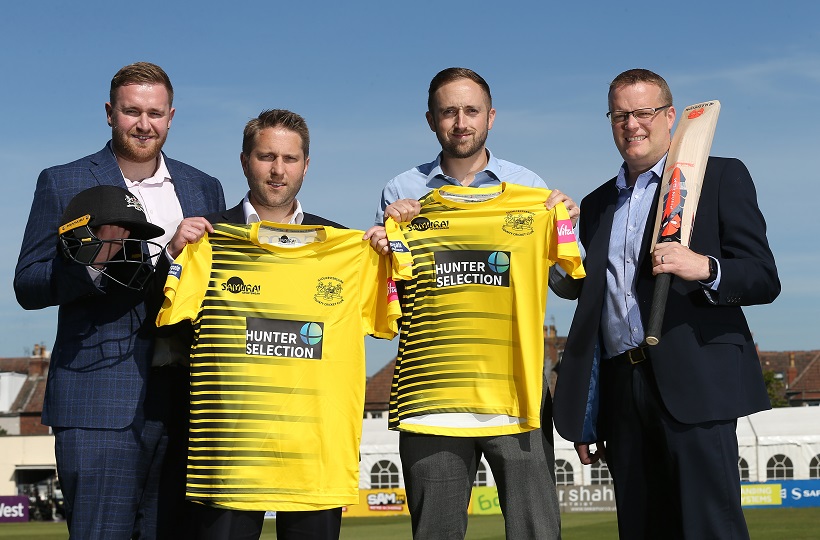 Neil Priscott, GCCC Commercial Director said, "It's fantastic to have Hunter Selection, a company started by sports lovers, become our T20 front of shirt sponsor. Their connection to the Club was established years ago through Nick before Hunter Selection was even born and it's great to see his success in business come full circle.
The GCCC T20 shirt looks terrific with their logo at the center and we can't wait to see the team wear it for the first time against Glamorgan."
The 2019 Vitality Blast jersey will be on show for the first time when Gloucestershire take on Glamorgan on Friday June 19th at the Fergal O'Brien Cheltenham Cricket Festival.