Gloucestershire v Glamorgan | Visitor Information
23 June 2021
T20 Match Day Visitor Information Guide
We look forward to welcoming Members and supporters of Gloucestershire and neighbours Glamorgan to the Bristol County Ground for the Vitality Blast match taking place on Thursday 24 June at 6:30pm.
Gloucestershire Cricket wants to make your visit as safe and as enjoyable as possible so, to help with your visit to the Bristol County Ground, please take a look at our Visitor Information guide that we have put together for you.
Please take a look at our helpful video regarding the return of supporters below:
Pre-Match Day Information
Where can I find out about all of the match day and COVID information?
Before match day, we'd really appreciate it if you read all of the information that is sent to you with your e-ticket.
It is vital that you have read the match information you are provided.
Additional information will be sent directly from the Club's email communications ahead of match day.
---
On The Day
On the game day itself, please make sure you arrive in good time. Your patience is much appreciated. Entry and exit to the ground will take time and bag searches will be conducted, so please bear with us and ensure you give yourself time.
Gates will be open from 4:30pm
At the gates, we have NHS Test & Trace QR codes in place. Please can you ensure that you have scanned yourself in.
Please enter the ground at the gate designated on your ticket. And don't forget to bring your mobile or tablet device which will display your e-ticket. If you are printing your ticket at home from our PDF, please ensure that you bring that with you. You will need your e-ticket or print at home ticket with you.
If you are a Member, you will need both your Membership card and your e-ticket/print at home ticket.
When you are in the ground, please stay in your allocated seat. At all times, and to comply with regulations in place for sports stadia, please ensure that you wear your mask at all times when moving around the ground or in any internal spaces, unless you're eating or drinking or have an exemption. We strongly recommend that for the safety of everyone that masks are also worn when in your allocated seat but this is not an essential requirement.
You will not be able to change seats once at the ground.
Stewards may ask to see your ticket to ensure that you are in the right seat and stand
Please read our COVID Etiquette here
---
We Are Now Cashless
In common with many others and to provide a safer and cleaner environment, the Bristol County Ground is now cashless, so please make sure you come prepared with your debit or credit card should you want to purchase refreshments or visit the shop.
---
Glos Cricket App
Gloucestershire Cricket has launched its first ever supporter-focussed Club App, bringing fans closer to the action with exclusive content at their fingertips.
The Glos Cricket App is a mobile platform, powered by Realife Tech, offering supporters in-depth access to Club news, matchday coverage, exclusive content and the ability to order drink from your seat!
Download from The App Store (iOS)
Download from The Play Store (Android)
---
Food & Drink
What is available on the day?
Bars:
Thatchers Bar (App orders available)
Brambles Bar
Procter Bar (App orders available)
Stumps Marquee Bar
Mound Bar (App orders available)
Food:
The Shack - serving pulled meats (vegetarian option also available)
Barista Coffee
Burger/Hot Dog van x2
Momo's - Tibetan street food
Fish & Chips
Ice Cream van
Admission is subject to the ground regulations and no alcohol is permitted to any one day matches.
Food & soft drinks are allowed on T20 match days. Glass or sharpe objects are not allowed.
Please remember that all catering units are cashless.
If you are queuing for food and beverage at the ground, please ensure that you are wearing a mask at all times and adhere to the COVID Etiquette.
The maximum order at any time for Alcoholic drinks is four.
All of our bars use eco-cups. Eco-cups are available at a deposit of £1 per cup and is refundable at the end of the match at each bar. When returning your Eco-Cups, please note that you can only return a maximum of 10 cups per person.
---
What Is Zoned Off?
Areas of the Bristol Pavilion will be zoned off for this match.
Unfortunately, due to restrictions Members and supporters will not have access to the players. Players are not able to interact with spectators as they normally would, meaning that they are not allowed to pose for photos with kids or sign autographs.
---
Parking
Ashley Down Road End
Limited Parking will be available at the Ashley Down Road End of the ground on a first come, first served basis for Blue Badge holders, Premier Club Members, 2021 Gloucestershire Cricket car parking pass holders and Hospitality guests ONLY.
Nevil Road
There is NO PARKING available via the Nevil Road Entrance.
---
Bus Service
The Bristol County Ground is easily accessible by bus: Services 17, 70/71, 72, 73, 75, 76, T2 all run within a five-minute walk of the main entrance using stops on the nearby Gloucester Road (Services 71, 72, 73, 75, 76, T2), Muller Road (Service 17) and Ashley Down Road (Service 70). All buses operate at regular intervals throughout the day.
Click here for the First Bus timings.
---
Train Service
The nearest train station to The Bristol County Ground is Montpelier, approximately one mile from the Club and close to other public transport. The station has direct lines through to Bristol Temple Meads and a regular schedule to Bristol Parkway.
---
Hours of Play
| | Floodlit Matches |
| --- | --- |
| First Session | 6:30 pm - 7:45 pm |
| Interval | 7:45 pm - 8:00 pm |
| Second Session | 8:00 pm - 9:15 pm (approx) |
---
Ground Map
Please take a look at our Ground Map below - you can download the ground map here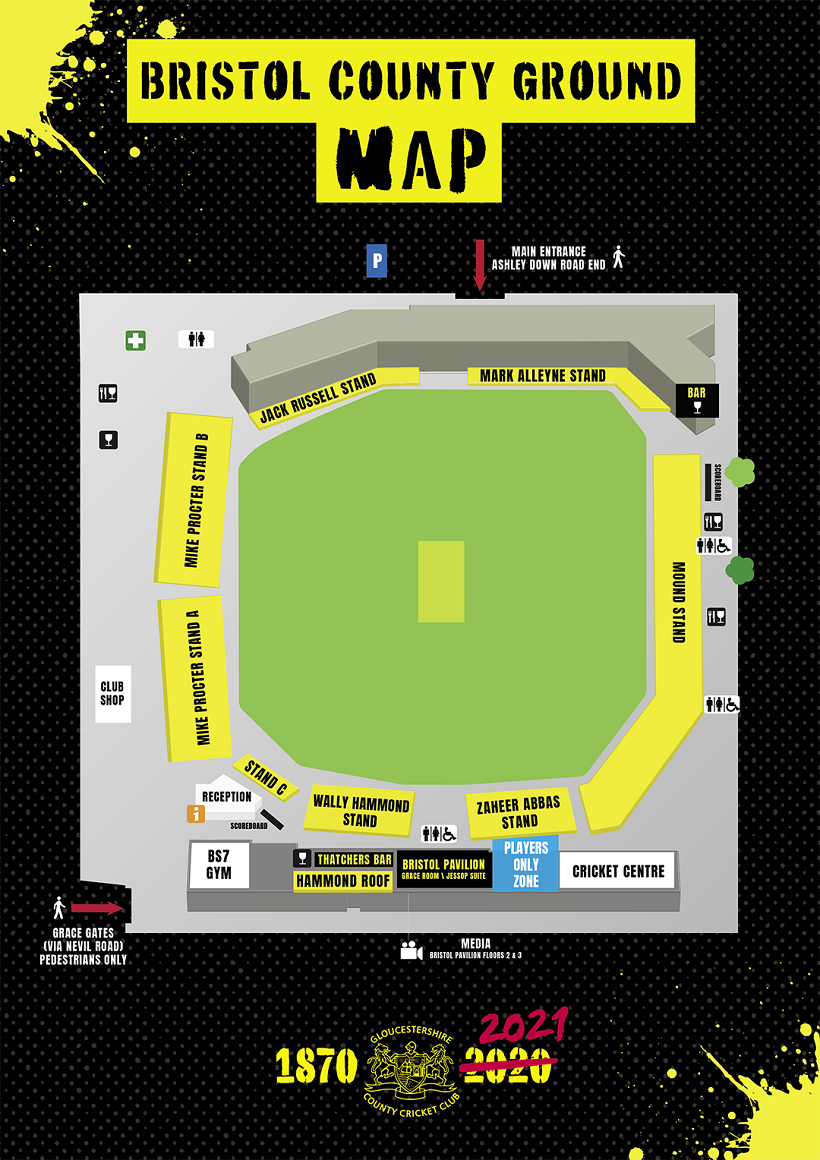 NHS Test & Trace
On each entrance, spectators will be able to scan the sign-in QR code with the NHS Covid-19 App. The Club will ask for up-to-date contact information at the point of purchase for ticket purchasers, however, we ask that those in your party scan the QR code where possible.
If you do not have a device that is compatible with QR codes, you will still be able to gain access and we will use your contact details from when you purchased/booked tickets should the NHS require them.
Scorecards
Scorecards will not be available in ground on match days. The Club have made a conscious choice, for environmental sustainability reasons, to print as little as it possibly can going forward.
Additional Information
The Club has installed sanitisation stations around the ground.
Stewards will ask spectators to comply to the COVID Etiquette enforced by the Club.
At the end of the day's play, stewards will ask sections of the crowd to leave in turn. We very much appreciate your patience during this period, as it is important that spectators leave as they arrived – in a socially distanced manner.
In order to ensure a safe and clean environment, please note that our cleaners will be operating around the ground during the match.
The Legends Walkway, located under the apartments on the Ashley Down Road End of the ground will be displayed with social distancing markings to ensure supporters are at a social distance if wet weather results in spectators congregating in this area.
Please ensure you bring waterproof clothing along with an umbrella should there be adverse weather on match days. The Club Shop located on the Kennington Avenue side of the ground will be selling umbrellas and ponchos.

If you are cycling to the ground, you can place your bike at the bike racks located at the Ashley Down Road End of the ground. Please note, parking your bike is at your own risk.

Please click here for a full list of our ground regulations
---
Contact Details
Please feel free to contact the Club with any feedback, or questions, on 0117 910 8000 or via email info@glosccc.co.uk
---
All these guidelines are here for the safety of everyone, and they are applicable to everyone, regardless of whether you have received a vaccination or previously had COVID.
Gloucestershire Cricket wants to ensure that everyone is looked after, and that Members and supporters follow the instructions for match days.
Stay safe and enjoy the cricket.
#GoGlos💛🖤