Gloucestershire to continue partnership with Yogafurie
4 November 2019
The Gloucestershire Cricket first team will spend time with Yogafurie as part of their pre-season for the 2020 season.
With the programme adding value to last year's early pre-season schedule, the team, who will be taking part in a variety of practices, will hope for similar positive outcomes this time around.
Last year, the first team had been practicing hot yoga in 35+ degree heat, working on flexibility, balance, strength and control with the instruction and help of trainer Ed Wood.
The Gloucestershire squad have been training at Yogafurie since the end of the 2017 season and it will certainly be beneficial to the squad heading in to the 2020 season.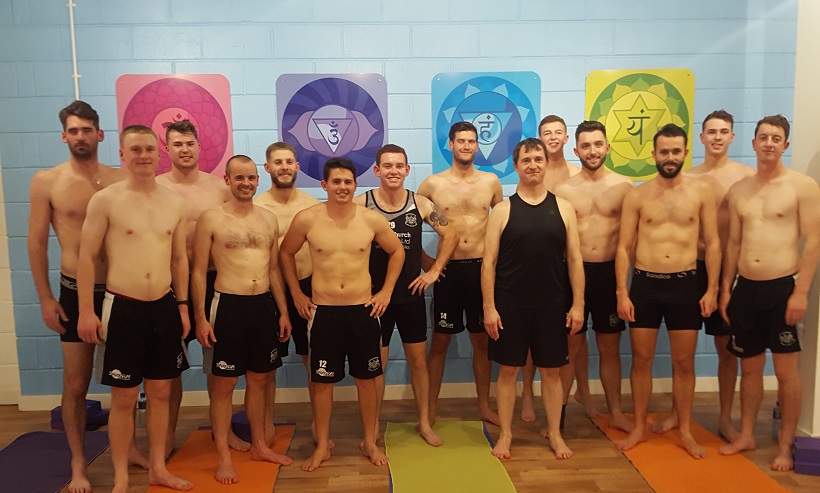 (The Gloucestershire squad with Yogafurie instructor Ed Wood in 2018)
Yogafurie Trainer, Ed Wood said: "Yogafurie and Gloucestershire Cricket have been working together for two years already, and as a result, we are able to look much more deeply at the needs of the players in terms of their athletic movement and performance.
We've already done some great work with Bob, their strength and conditioning coach, creating a unique programme suitable for top flight athletes. And we are really looking forward to working with the guys, delivering the program and contributing to their continued success."
Gloucestershire's Strength and Conditioning Coach Bob Smith was an integral part of organising and arranging the Yogafurie sessions last winter.
Looking ahead to this year's programme, Coach Smith said: "We're delighted to be continuing our partnership with Ed and Yoga Furie. This year we are going to explore some of positions and shapes critical to cricket performance.
Ed and I share an interest in the development of the lines of muscular and fascial power development common to bowling and batting skills. We hope that by marrying this cricket specificity with the depth of Ed's expertise he can deliver immense value to the winter programme."
The first session with Ed will be taking place on Tuesday 05 November.
To find out more information about YogaFurie, please click here