Gloucestershire Cricket's partnership with St Austell Brewery enters eighth year
30 September 2021
St Austell Brewery has extended its partnership with Gloucestershire Cricket for an eighth year – a landmark anniversary that's been marked by the opening of a brand new Korev Roof Terrace at Bristol County Ground.
The family-run brewery, which was founded in Cornwall in 1851, has renewed its sponsorship commitment with the club until at least the end of the 2022 cricket season. St Austell will therefore enjoy another year as Gloucestershire's official brewery partner.
Gem Amber Ale, brewed by Bath Ales – which St Austell Brewery acquired in 2016 - continues as the club's back of shirt sponsor.
The deal will also see St Austell Brewery's lager, Korev, and Bath Ales' Gem, continue to be served during all occasions, including on match days, at Bristol County Ground and at the annual Cheltenham Cricket Festival.
St Austell Brewery and Gloucestershire Cricket's relationship goes back to 2013 and as one of Gloucestershire Cricket's longest-serving current sponsors, it has also become the official naming rights sponsor for the club's newly opened Korev Roof Terrace and bar. A premium area that's located at the Bristol Pavilion, the Korev Roof Terrace is available for both match day and non-match day bookings and offers unrivalled views of the on-field cricket action.
Throughout St Austell Brewery's lengthy commitment to supporting Gloucestershire Cricket, Bath Ales, Gem and Korev have become a recognisable part of the make-up of Bristol County Ground. Colourful signage, enriching hospitality and branding on club playing shirts have all helped the club to create a memorable match day experience for visiting cricket fans.
Andrew Turner, Managing Director of St Austell Brewery's Beer & Brands said: "We're delighted to be sponsoring Gloucestershire County Cricket Club for an eighth year. Supporting sports clubs in the West Country is something we're really passionate about, as they play such a key role in bringing communities together. The new Korev Roof Terrace is a great urban environment to showcase our new branding too.

He continued: "We look forward to continuing to build on our relationship with the club in future and here's hoping for a successful season ahead."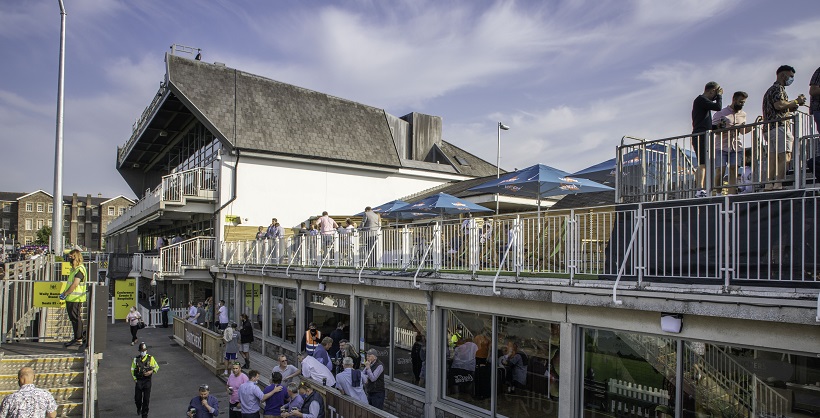 Will Brown, Chief Executive at Gloucestershire County Cricket Club, said: "We're delighted to have St Austell Brewery onboard for yet another season, they have been a long-time supporter of the Club and everyone here is very excited to see how our relationship can continue to grow. Gloucestershire Cricket is a proud supporter of local businesses and we're thrilled to have St Austell Brewery as a major part of our hospitality and match day experience offering.
"Everyone at the club would also like to thank St Austell Brewery for its continued support, including throughout the challenging Covid-19 pandemic."
For Korev Roof Terrace booking enquiries please email Joe Kaniecki, Business Development Manager, Gloucestershire CCC, at joe.kaniecki@glosccc.co.uk.