Gloucestershire Cricket's 151 Not Out Events programme kick starts with Online Quiz
13 January 2021
The Club will be celebrating the interrupted 150th Anniversary year with a new look 151 Not Out Events programme. As part of Gloucestershire's 151st Anniversary, in association with Barcan+Kirby, the Club will host many exciting events during the course of 2021.
We are marking our 151st Anniversary in style with a year of celebratory events for Members and supporters to enjoy online and hopefully face to face when we have the opportunity to do so.
Gloucestershire Cricket will kick start the anniversary with an online sports quiz night hosted by quizmaster Chris Coley on Wednesday 3 February at 7:00pm.
"Quizzers" will be challenged on their sporting and Gloucestershire Cricket knowledge with video and picture rounds also appearing throughout the night - only true all-rounders will prevail!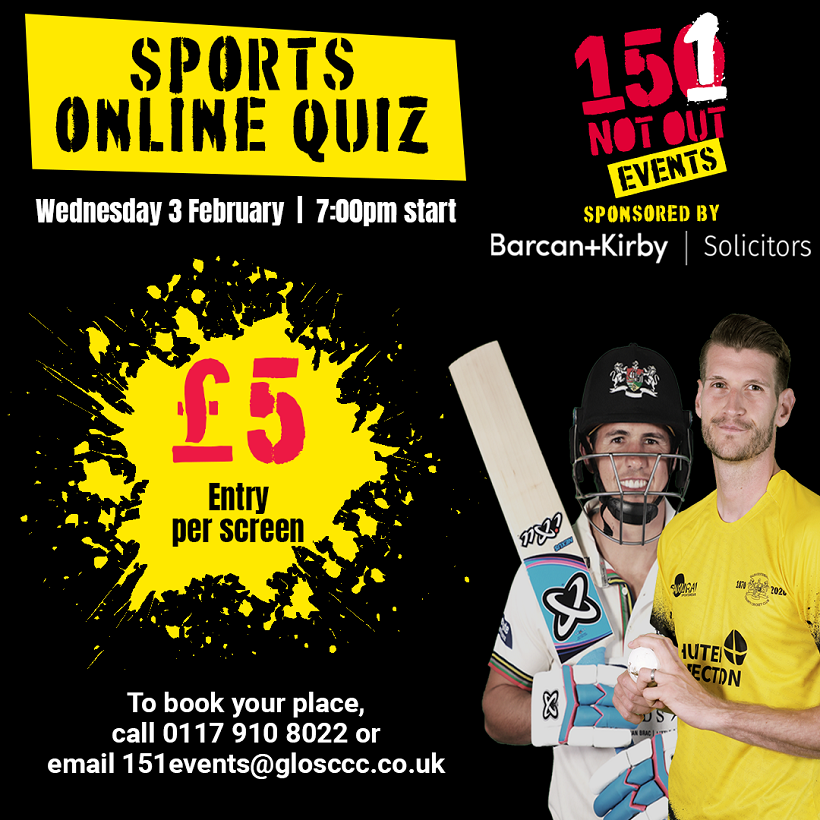 Gloucestershire Chief Executive Will Brown said: "The Club are looking forward to hosting many events during the course of the year. It was a shame that our 150th Anniversary was cut short, but we are excited to be celebrating this year with our members, supporters, players and staff. We would like to thank our Anniversary partner Barcan+Kirby for their continued support."
Quiz night details:
7:00pm Quiz starts
£5 entry per screen
---
To book your place for the online quiz or to find out more, please contact us on – 151events@glosccc.co.uk or call 0117 910 8022.