Gloucestershire Cricket launch New Business Club App
15 February 2021
Gloucestershire Cricket is delighted to announce the launch of a new business club app powered by Bundeling. The Club is the first professional cricket team to work alongside Bundeling who already work with other sporting Clubs such as PSV Eindhoven and Wycombe Wanderers. The application will be fundamental to developing commercial operations at the Bristol County Ground and Cheltenham Cricket Festival.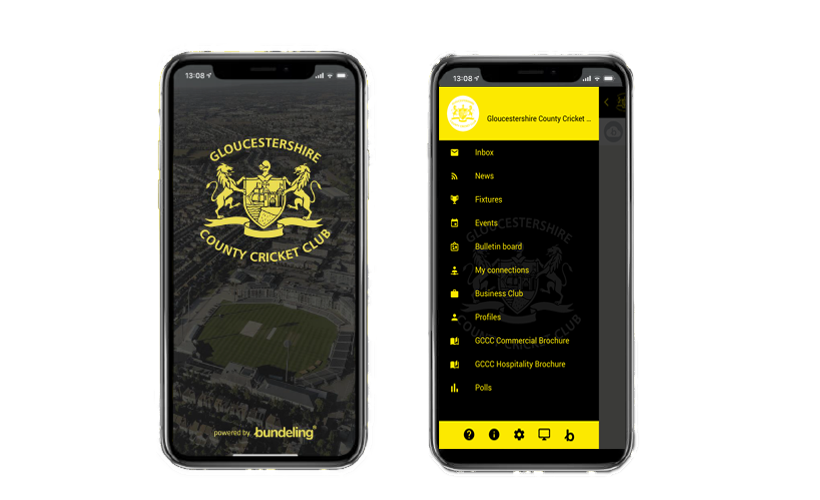 The App provides Club sponsors an opportunity to offer their services to all other Club partners through the bulletin board. Additionally, the 'my connections' tab will improve the way in which our sponsors and partners communicate with each other on one single platform. An in-app messaging service allows its members to communicate with other businesses quickly and efficiently and will improve working relationship with others moving forward.

The app will allow our partners to be connected to the club 365 days a year through receiving the latest opportunities, news stories and invitations to all home fixtures and the business club network events.

Joe Kaniecki, Business Development Manager at Gloucestershire Cricket, said: "This is one of the most exciting new developments that we have introduced to the Club in a number of years. A great part of our success in recent years is based on the excellent work and relationships we have with our local and national sponsors and partners.
There is a real sense of the "Gloucestershire Family" that is apparent with our partners, which has been much in evidence throughout these difficult times; we therefore believe the opportunity to promote offers and updates to a wider business audience will be a real benefit for our current and future partners.
Our partnerships are essential to everything we do, and we are always looking for ways to improve. With digital one of the key strands of the Club's strategy in the coming years, we feel that our Business Club App will certainly help to take us to the next level of service."

Elroy Jansen, CEO of Bundeling, said: "At Bundeling, we believe that in today's climate, collaboration, communication, and connectivity are essential to the success of every club. Therefore, we are very proud to welcome Gloucestershire as the first Cricket Club that has chosen to digitalize their business club powered by Bundeling. With the Gloucestershire app, we are confident that the club is discovering new ways to add more value to its existing and new partners."
For more information on Bundeling, please click here.