Glos Cricket hosts PSL side Peshawar Zalmi for UK Talent Hunt
6 July 2022
Gloucestershire Cricket welcomed Peshawar Zalmi and around 80 ambitious young cricketers from in and around Bristol yesterday as part of the Pakistan Super League (PSL) side's UK Talent Hunt.
Led by former Glos player and now Director of Cricket at Peshawar Zalmi, Mohammad Akram, the PSL team have been searching far and wide across the UK to find talented young players who could one day fulfil their dreams of making it as a pro cricketer.
Pakistan national team legend, Inzamam-ul-Haq, attended the Talent Hunt session at Gloucestershire's Seat Unique Stadium in the hope of spotting a young player with raw talent. The 52-year-old made 120 Test and 378 ODI appearances for Pakistan, scoring more than 19,000 runs in the process.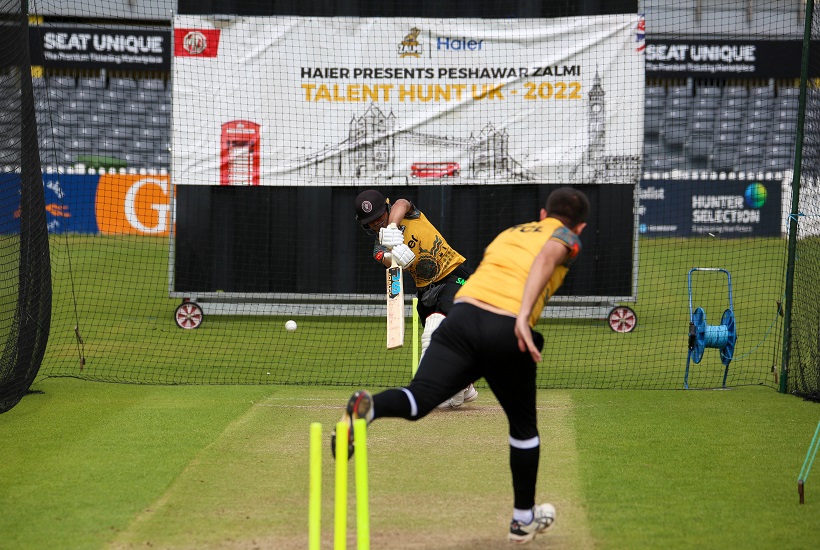 The Peshawar Zalmi scouting team have held similar sessions in Luton, Bradford, Birmingham, Newport in Wales and more, and will venture into Europe in the coming weeks. The aim for the Peshawar Zalmi hierarchy is to assemble a team of 16 young players from the UK and give the hopefuls the chance to prove their abilities and potentially play in Pakistan domestic cricket.
Speaking at the Seat Unique Stadium, Mohammad Akram said: "We're here to create more opportunities for youngsters, that's the whole idea, to open more doors for youngsters in franchise cricket.

"To do that we're visiting eight cities in England and Wales, and are looking to compile a team of 16 which can go and compete in Pakistan domestic cricket. Four of those who are selected will be a part of the Zalmi dressing room in the PSL, so it is a good opportunity for them to rub shoulders with some superstars.

"We're very excited with the talent we've seen and it's great to see a mix of communities all coming together."
During the visit to the Seat Unique Stadium, Mohammad met with Gloucestershire Chairman David Jones and Chief Executive, Will Brown, to discuss how the two clubs can work closely together in the future to develop talent in both Pakistan and Bristol.
Will Brown, Chief Executive at Glos Cricket, said: "It was brilliant to be able to support Mohammad, Inzamam and all of the team at Peshawar Zalmi as part of their UK talent hunt.
"It is an excellent idea introduced to us by our board member, Dr Adeela ahmed Shaafi, that brought a whole new group of talented players to the stadium giving them an incredible opportunity to play at a world-class venue and potentially put themselves on the road to a professional contract. We are very excited to be working with Peshawar Zalmi and hope this is very much the start of a long and meaningful relationship."