Gloucestershire Cricket are thrilled to announce Life Cycle as the Club's local charity partner for the 2020 season, joining CLIC Sargent and Borderlands as one of three official charity partners.
Located just 600 metres from Bristol County Ground at HMP Bristol, Life Cycle are an innovative charity that transform lives and the environment through cycling, helping people to unlock the physical, social and environmental benefits of riding a bicycle.
They also train prisoners as cycle mechanics, helping them to gain qualifications and boost their employability, as well as running 'inclusive cycling' programs to help isolated members of society feel more connected to their local community.
The local partnership aligns with the Club's ambition to become more environmentally friendly, with Gloucestershire Cricket working alongside Life Cycle to help engage the local community in their initiatives and programs.
The charity will be featuring their mobile mechanic, 'Dr Bike', at the Club's Community Day on Sunday 26th July at Bristol County Ground, where Life Cycle's qualified mechanics will provide essential cycle checks and repairs for members and supporters. The local charity will also showcase other cycle projects on the day, including their smoothie bike and tandem taster sessions.
Gloucestershire Cricket will also work with Life Cycle's 'Bike Back' program, where donations of unwanted bicycles are taken into HMP Bristol and prisoners are taught the mechanical skills to strip down, repair and rebuild them. Once fixed, the bikes are sold at affordable prices to help people on lower incomes to get a bike, start cycling and reduce their carbon footprint. The program also helps prisoners gain accredited qualifications in cycle mechanics and increase opportunities to gain employment in the bike industry on release.
Gloucestershire players David Payne, Matt Taylor and Jack Taylor visited the charity at HMP Bristol to get an up-close look at the 'Bike Back' workshop from Life Cycle staff.
Speaking on the experience, Matt Taylor said, "It was an incredible experience visiting Life Cycle inside the prison and hearing about the amazing work they do promoting healthy living through cycling. It was also brilliant to see how the program teaches people bike mechanics and gain official qualifications, potentially for the first time."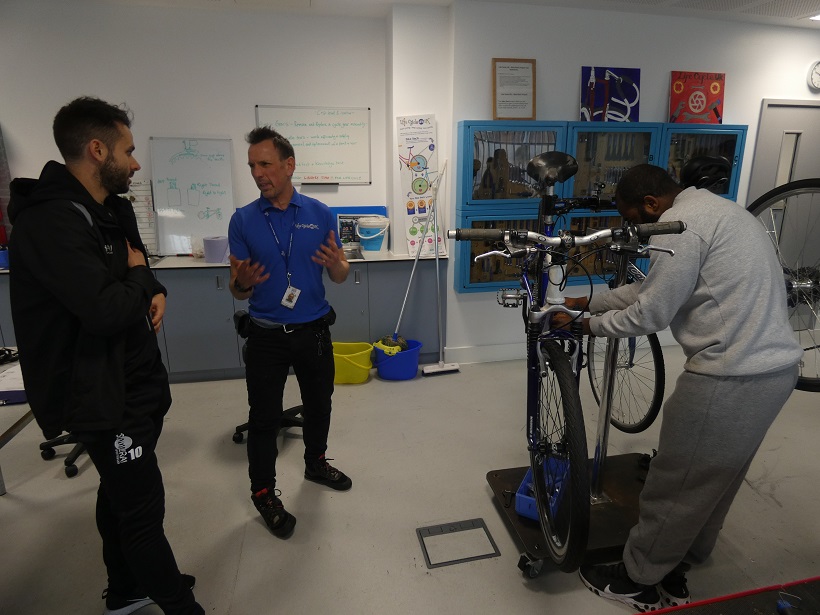 Gloucestershire Cricket CEO Will Brown said, "It is very exciting for the Club to be engaging with such a fantastic local charity. Life Cycle are a unique charity and the work they do is impressive and makes a genuine difference in the community. Their focus on minimising environmental impact and their proximity to Bristol County Ground makes them a natural fit as our local charity partner and I am sure Gloucestershire members and supporters will be excited to see the work of Life Cycle at our Community Day during the season."
Life Cycle CEO Ed Norton said, "We are thrilled to be Gloucestershire Cricket's local charity partner for 2020 – our 20th anniversary year. Our 'Bike Back' project is located at the heart of the Gloucester Road community, yet it's one of Bristol's best kept secrets - as much of it takes place behind the prison walls. Partnering with such a well-known local institution will really put Life Cycle on the map and help us reach even more people who could benefit from our services or support our work. We also look forward to helping the Club reach its sustainability goals by supporting and promoting cycling."
As well as teaching cycling skills and confidence to over 4,000 children and adults each year, Life Cycle's award-winning 'Inclusive Cycling' projects help people with disabilities, mental illness, offenders, disadvantaged children and isolated older people to feel happier, healthier, and more connected to the local community.
Impact
Life Cycle's work is nationally recognised and consistently found to create "exceptional social return on investment" (University of Bristol, University of Surrey & University of Brighton). Their recent awards include:
Finalist: National Lottery Awards
Winner: Prison Reform Trust - "Robin Corbett Award for Prisoner Re-integration"
Awarded: Earth Champions Foundation "Outstanding Award"
Winner: The Queen's Award for Voluntary Service