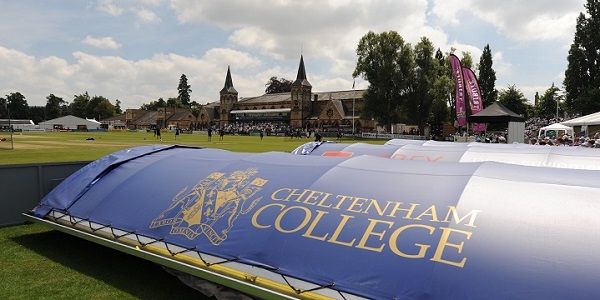 The Cheltenham Cricket Festival is one of the most loved events in the social and sporting calendar. The idyllic setting of Cheltenham College  provides the perfect backdrop for cricket at the height of summer.
Gloucestershire have been playing in the stunning grounds of Cheltenham College for over 140 years, making this the world's longest running cricket festival on an outfield.  The ground's idyllic setting has provided a perfect backdrop for the Festival throughout its history, a great attraction for cricket fans, new supporters and big cricketing stars.
Everyone at Gloucestershire Cricket would like to thank all members and supporters for contributing to a memorable Cheltenham Cricket Festival this summer..
The 2017 festival saw over 25,000 spectators enter the college grounds over the two weeks in July.
Supporters were treated to five matches in total and for the the first time ever, three NatWest T20 Blast fixtures were played at the idyllic college grounds.
On the pitch, Gloucestershire secured a win and draw in the Specsavers County Championship.
In front of a sell-out crowd in the NatWest T20 Blast, Gloucestershire beat Middlesex, whilst there was drama in the midweek T20 against Kent with the match ending as a tie.
The final fixture of the festival ended in a rain-affected draw against Sussex, but the sell-out crowd looked in good spirits throughout the day, despite the damp weather.
Gloucestershire fixtures at the 2017 Cheltenham Cricket Festival:-
Monday 3 – 6 July – Gloucestershire v Glamorgan – Specsavers County Championship (11.00am)
Friday 7 July – Gloucestershire v Middlesex – NatWest T20 Blast (2.30pm) (SOLD OUT)
Sunday 9 – 12 July – Gloucestershire v Worcestershire – Specsavers County Championship (11.00am)
Thursday 13 July – Gloucestershire v Kent – NatWest T20 Blast (2.30pm)
Sunday 16 July – Gloucestershire v Sussex – NatWest T20 Blast (2.00pm) (SOLD OUT)
Fixtures for the 2018 Cheltenham Cricket festival are expected to be announced in November.