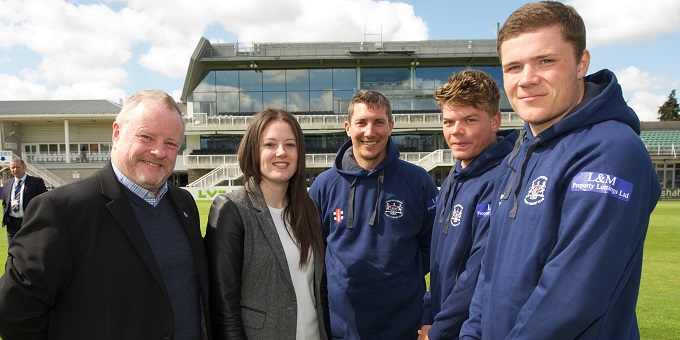 The Gloucestershire CCC Academy is sponsored by L&M Property Lettings Limited
Gloucestershire CCC Academy aims to produce world class cricketers through identifying, assessing and further developing the most talented players available to us.
Season Review – 2016
This is not only a review of the 2016 season but an opportunity to reflect on my time as Academy Director.  From 1 January 2017 my focus has been on running the Club's Second XI squad and working as a Batting Coach.
I'm delighted that former Gloucestershire player, Tim Hancock, has succeeded me as Academy Director to take forward what I believe is our most talented group of Academy players to date.
Since taking over the Academy in 2008, I have had the pleasure to oversee the development of 10 of the current 18 full time professionals; 6 of whom were in the squad that lifted the Royal London One-Day Cup in 2015.  It has been an honour to work with this group of players and to see them develop into the successful, professional players they are today.  Along with 4 "Academy Plus" Contracts that have been awarded for the coming year (and for those players following closely behind), this is proof of the quality of players we are producing at Gloucestershire.
The four recipients of our new "Academy Plus" contracts for 2017 are Callum Gregory, Ollie Currill, James Bracey and Patrick Griesharber.  These contracts were well-deserved for all the hard work and development each of them have shown.  Callum was the second leading wicket taker in the WEPL Premier League, taking 31 wickets for Downend Cricket Club.  Ollie was selected twice for the Gloucestershire First XI squad without making his debut whereas Patrick and James both played First XI cricket in 2016.  Patrick's highlight, having appeared in two short format games, was undoubtedly his performance in the T20 Quarter Final v Durham.  James, who forced his way into the First XI, made his debut against Sussex after finishing the season with strong performances in the Second XI.  Perhaps the stand out achievement is that James, Ollie and Patrick who all represented Gloucestershire Under 13's have since been on different parts of the Player Pathway; ranging from District Cricket to the Academy, all pushing through together.
Other stand out performances from Gloucestershire Academy Players over the season included Joe Dryell and Ben Charlesworth (both 15-year-olds), making their Second XI debuts.  Joe and Ben, along with EPP player Matt Brewer, were also selected to represent the South West in the Bunbury Festival.  Following his performances and his success over the season, Ben was selected for an early 2017 England Under 16's tour to Sri Lanka.  Mention too for Jordan Garrett and Tom Price who were both selected to represent the South West Under 17's in the Super Fours Competition.
I have been very proud of the Gloucestershire Academy Player's achievements over the 2016 Season.
As I move on from the Academy Director's role there are many people I would like to thank for making the Academy Programme such a success over the past 9 seasons.  Assistant Second XI and Academy Coach, Steve Cashmore, has been exceptional in his role.  Through his hard work he has contributed considerably to the success of the programme.  Gloucestershire Bowling Coach, Mark Thorburn, has done a fantastic job leading on the bowling programme.  Former Gloucestershire Off Spinner and now Cricket Coach at St Edward's Oxford, Dave Simpkins, has worked on the programme throughout my time as Academy Director and his commitment to helping all players "be the best they can be" has been outstanding.  Last, and by no means least, Lizzie Allen who runs the Cricket Office.  Lizzie has been the glue that has held the programme together ensuring all players and parents are always communicated with so they know where they need to be.
Finally, I would like to thank you all for your support in our aim to "Identify – Recruit – Develop talented young players for Gloucestershire and England."
Owen Dawkins, Academy Director
Gloucestershire Cricket Player Pathway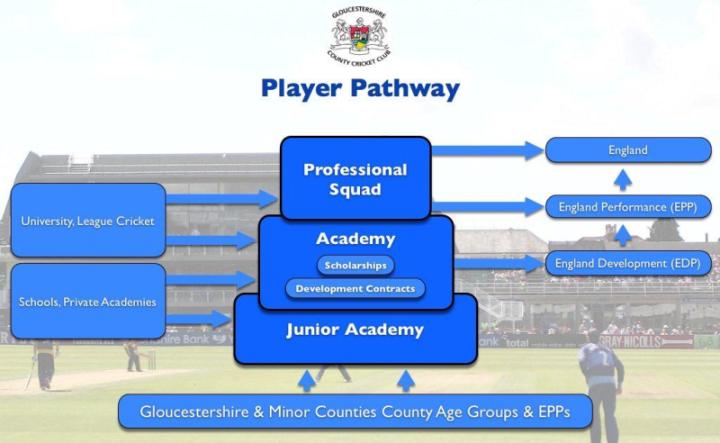 The GCCC Academy are linked with Filton College, St Edwards in Oxford and Wycliffe College in Stroud. These schools support a full cricket programme alongside their education aiming to ensure players are able to achieve excellence in both. Wycliffe College and St Edwards have also offered cricket scholarships to players on Gloucestershire's Academy and Junior Academy.