Gloucestershire Cricket is pleased to announce that Borderlands will be the Club's city-based charity partner in 2020 and one of three charity partners for the Club's 150th year.
Borderlands helps the disadvantaged and marginalised, focusing on asylum seekers, refugees and those with insecure immigration status, primarily within the Bristol area.
The partnership will look to raise awareness of the work Borderlands does and promote the different ways the charity provides support to those in need.
Gloucestershire Cricket will work with Borderlands to showcase the charity at Bristol County Ground on World Refugee Day at the Vitality Blast game against Hampshire on 20th June. The charity will also feature at the Club's Community Day on the 26th July.
Facilitated by Gloucestershire Cricket, Borderlands will also link with Chance to Shine Street, a free cricket initiative run by the Gloucestershire Cricket Board that brings together young people from diverse urban communities and provides an opportunity to learn, play and develop through cricket.
Gloucestershire Cricket players Ryan Higgins, George Scott, Graeme van Buuren and Stuart Whittingham visited Borderlands at their base in the inner-city Bristol suburb of Easton, sharing a meal with members and learning about the work of the charity.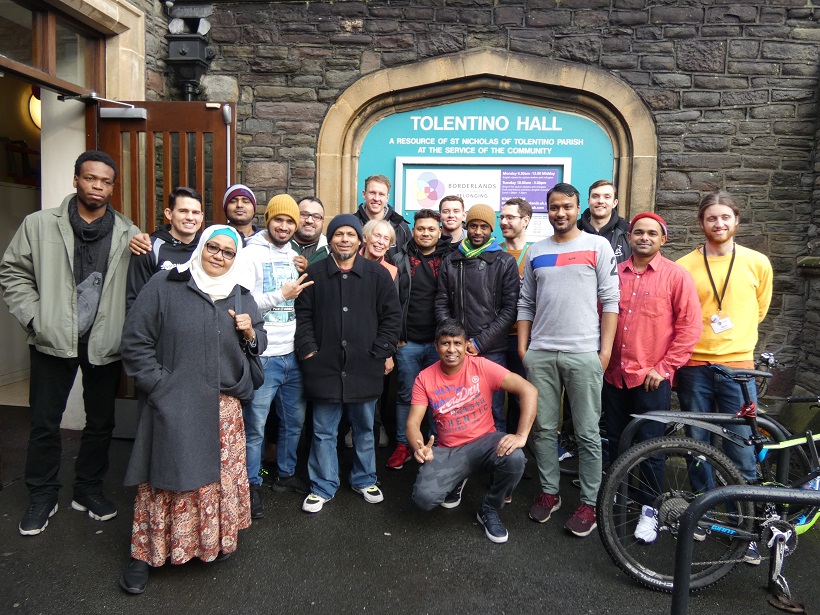 Speaking on the experience, all-rounder George Scott said, "It was amazing to see what a great job Borderlands do within our Bristol community and meet some of the people who have come into their community from around the world. Hearing about the extraordinary troubles they encountered in their lives and the journeys from their homelands to the UK gives you a huge sense of perspective and fills you with the sincerest sympathy. I'm delighted the Club have partnered with Borderlands to help and welcome these new members of our community."
Borderlands open their doors to refugees and asylum seekers from over 50 nationalities, building a sense of community and bringing together different cultures to offer support to their members. They work to seek sanctuary, safety and justice for their members, empowering them to make full use of their talents and abilities, feel valued for their contribution to their community, and build worthwhile lives.
Mark Dunn, Director at Borderlands said, "We are very happy to work in partnership with Gloucestershire Cricket in 2020. We are incredibly grateful for the Club's solidarity with new members of our community. The support from the Club will help Borderlands continue our vital work of ensuring refugees and asylum seekers can find safety and belonging in their new community in Bristol. Our members are very excited about the partnership and we're looking forward to putting on some great events with the Club to raise vital money to support our work and increase the opportunities for our members to access cricket and sport."
Will Brown, Gloucestershire Cricket CEO said, "We are excited to welcome Borderlands as the Club's city based charity partner for the 2020 season and work with them to support their members as much as we can. Highlighting the need to work together as one community really struck a chord with the Club's vision and values. Whilst we were inundated with charity partner applications, we felt the work of Borderlands was particularly outstanding and we look forward to supporting their fantastic work."
As part of their '50,000 appeal', Borderlands are fundraising to try and raise £50,000 to ensure they can continue to provide vital support to members for the next 6 months. Follow the link to donate to the campaign, https://localgiving.org/appeal/borderlands50000/.
About Borderlands
Borderlands helps refugees, asylum seekers and those with insecure immigration status from exclusion to belonging through five main projects; Drop-In, Mentoring, Housing, Legal Fund and Speaker's team. The work of Borderlands' aim to alleviate hardship from poverty and destitution, increase social inclusion and wellbeing, and raise awareness of its members needs and experiences to the wider community. The charity was founded in 2011 following a long history of the parish at St. Nicholas of Tolentino RC Church providing support to the local community in need, many who were from an asylum or refugee background.