This summer saw the inaugural staging of the Kia Super League. The T20 competition was made up of six sides and featured some of the biggest names in women's cricket.
Western Storm was a consortium of Gloucestershire County Cricket Club, Somerset County Cricket Club and the University of Exeter. The side was captained by England skipper Heather Knight and also featured England bowler Anya Shrubsole, England International Fran Wilson, West Indian superstar Stafanie Taylor, New Zealand 'keeper Rachel Priest and South African Lizelle Lee.  The rest of the squad was made up of some of the best young talent from across the region who were selected through a county talent identification process.
It was an exciting summer for the women's game with the best players in the world clashing at venues all across the country and Western Storm came so close to lifting the trophy
We caught up with Heather just before she led England on their tour of the West Indies and here is her match by match review of the Tournament.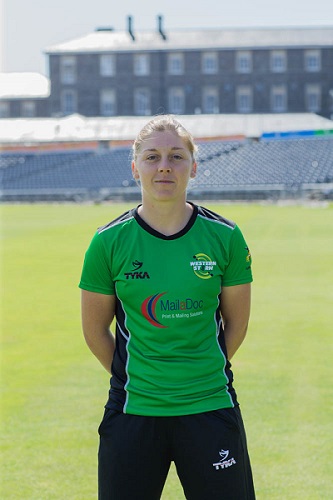 Match One:
Western Storm 86 for 6 (Knight 23) beat Lancashire Thunder 83 all out (Taylor 4/14.  Knight 3/11) by four wickets.
"It was a low scoring game and I think that if look at the other games that weekend as well, you can see that there were a few nerves around.  There were more people there than I was expecting and it almost felt like an England game because we had so much support.  It was a big shock for some of the younger players who haven't played in front of that many people before but they absolutely loved it.  It's always nice to chip in with a few cheeky wickets and Stafanie kicked off her tournament really well.  It was a really good start to the competition for us which settled a few nerves and set us up for quite a successful tournament."
Match Two:
Loughborough Lightning 158 for 8 (Jones 46, Perry 44) beat Western Storm 153 for 5 (Knight 74) by five runs.
"This was a really good game actually, despite the result.  Obviously it was disappointing to lose but the skills on show that day were outstanding on what was a belter of a pitch up at Loughborough.  To fall just five runs short was bitterly disappointing but it was a really good game of cricket.  It was frustrating to be on the wrong side of that result because we came so close."
Match Three:
Western Storm 165 for 5 (Taylor 74*, Lee 53) beat Surrey Stars 161 for 6 (Sciver 90*) by five wickets.
"I think that the win at Surrey was probably the highlight of the competition for us as a team.  That chase was just brilliant and Stafanie and Lizelle were outstanding.  Unfortunately we got to find out just what it's like to be on the end of one of Natalie Sciver's big innings though!  She batted superbly and from and England perspective it was nice to see her play an innings like that.  To chase the runs down and get over the line showed the power that we had and the depth of our batting too."
Match Four:
Western Storm 140 for 2 (Taylor 78*) beat Southern Vipers 137 for 3 (Bates 57) by eight wickets.
"Both teams were unbeaten going in to the game. This was a real quality win and I think it was our best all-round team performance.  Everyone played brilliantly and to get a win over the Vipers, who went on to win the competition, was nice  and to do it so convincingly was really pleasing."
Next up for Western Storm was a trip to Headingley for a match against the Yorkshire Diamonds which saw a remarkable spell of bowling from Anya Shrubsole.
Part Two of the interview with Heather Knight is coming soon…