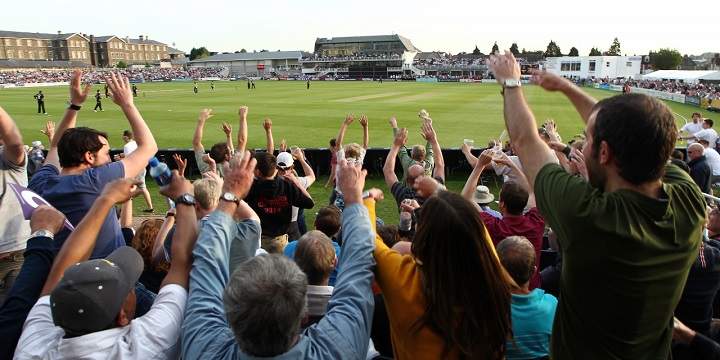 When is the next fixture at The Brightside Ground, Bristol?
To find the information on the next fixture at The Brightside Ground, Bristol, visit the 'Cricket' section of the website and then click 'Fixtures' http://www.gloscricket.co.uk/cricket/fixtures
Where can I find squad announcements and team news?
The squad for each fixture will be put on the website as soon as it has been released. It will also be posted on our official Facebook page as well as the official Twitter page.
How do I find out the score in the current Gloucestershire Cricket fixture?
The live score summary will appear on the website homepage which will also provide a link to the live score card.
Can I book car parking in advance?
Unless you have already purchased a 2017 parking permit, or are a Premier Club Member, match day parking at The Brightside Ground, Bristol will not be available for the 2017 season.
Parking for the above-mentioned permit holders (on match days) will be available on a first come, first served basis and cannot be guaranteed.
Is there discount for booking in advance?
Yes, for the majority of games, if you purchase tickets 24 hours before the match day, you can take advantage of the advance price.
How do I book tickets?
Visit http://www.gloscricket.co.uk/tickets/ to buy online in advance, or call 0117 910 8010
Is there a booking fee?
For domestic fixtures, no booking fee is charged. A booking fee of £1.50 per ticket is charged when purchasing tickets for the men's one day international matches.
What happens if there is 'no play' or the game is called off?
Click here to read our refund policy.
How are tickets sent out?
For most matches, if buying via the website, you have the option of selecting 'Print at Home' tickets. If you select this option, please print the ticket and bring it with you to the gate.
Otherwise, if tickets are ordered more than approximately a week in advance, your tickets will be sent out by the post. Tickets purchased within a week of the game will also be available to collect from the Grace Gates on the day.
Your tickets will get sent out up until a week in advance of the game. Otherwise, the tickets can be collected at reception or on the gate on match day.
How do I keep up to date with club information, special offers and ticket updates?
Please sign up to the newsletter by filling in your name and email address. http://www.gloscricket.co.uk/information/newsletter
Can I take a camera into the ground?
With the exception of persons authorised by Club management and press representatives holding official passes, the taking of photographs or use of video equipment inside the ground is prohibited. In addition, no recording for radio, television or for private purposes, whether for transmission or otherwise, is permitted save with a special authorisation in writing by the Club management.
What is the weather like?
Click here to visit the local weather http://www.bbc.co.uk/weather/2654675
How do I become a member of Gloucestershire Cricket?
We have a range of memberships available for the 2017 season. Click here to find out more
Is there wheel chair access?
Gloucestershire Cricket is committed to ensuring that our ground is accessible for all our customers. Our new Pavilion is designed for full accessibility to all areas.
Wheelchair access is available at both entrances and the open nature of our ground means that wheelchairs can be readily accommodated.
For most matches, ball by ball commentary is provided by BBC Local Radio which can be accessed by the internet from the BBC website.