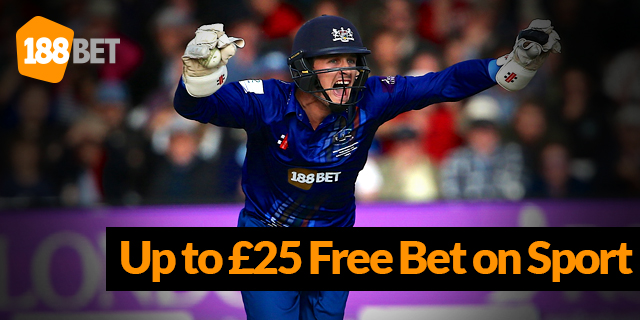 Looking to place a bet on Glos? Why not give our new official betting partner, 188BET, a try.
Why bet with 188BET?
188BET have recently been granted a licence by the UK Gambling Commission under new UK legislation, meaning that they adhere to a number of security and compliance laws set out by the UK Government, meaning that they are a company that can be trusted.
Having been in the UK market since 2006, they know a thing or two about offering great odds, and can often be seen sporting bigger value odds than some of the most established bookmakers in the UK and Europe.
188BET Promotions
All new customers to 188BET based in the UK can claim a £25 Free Bet Bonus offer. To take advantage of this offer, simply click here.
Look out for EXCLUSIVE Cricket Betting promotions
To give a bit of added value to Glos fans, 188BET are also offer some exclusive specials on cricket throughout the season.
Heard enough? Sign up an account here.