We look forward to welcoming England and Ireland supporters to the Brightside Ground, Bristol, on Friday 5 May!
Gates open at 9.00am and we advise supporters to arrive early to avoid any congestion.
Tickets
All tickets purchased prior to 4pm on Friday 28th April will be sent via Royal Mail or by e-mail if you selected the 'Print at Home' option when buying on-line. The 'Print at Home' facility will need to be used when making on-line bookings after that time (When selecting this option, you should ensure that you print the tickets and bring them with you to the match).
Tickets purchased over the phone after 4pm on Friday will need to be collected from the Club Reception prior to the day or from the entrance at the Ashley Down Road end of the ground on the day of the match.
To help answer any further questions you may have, please see below.
If you have any more questions ahead of the day, please call us on 0117 910 8000.
Timings
Gates open at 9.00am
England v Ireland
 
First Session
11.00 am – 2.30 pm
Interval
2.30 pm – 3.15 pm
Second Session
3.15 pm – 6.45 pm
Travel Information / Park & Ride
For this One-Day International fixture there is no public car parking at the ground. We strongly recommend that you use the Park & Ride facility that has been arranged with First Bus and Bristol City Council.
You can also get to the ground by train, bus and taxi.
For all travel information to the ground, including a match specific Park & Ride option – Please click here to view a downloadable PDF 
Nevil Road – Closed from 7:00am
please note that Nevil Road will be closed to all vehicles from 7.00am until 1 hour after the close of play on Friday 5 May for the Royal London One-Day International between England and Ireland.
We strongly advise that supporters attending the game should use the Park and Ride service that is being provided by First Bus.
Accessibility
Gloucestershire Cricket is committed to ensuring that our ground is accessible for all our customers. The Bristol Pavilion is designed for full accessibility to all areas.
Wheelchair access is available at both entrances and the open nature of our ground means that wheelchairs can be readily accommodated.
For most matches, ball by ball commentary is provided by BBC Local Radio which can be accessed by the internet from the BBC website.
If you have any questions or suggestions on how we can improve our service, please contact Reception on 0117 910 8000 or Email reception@glosccc.co.uk
Map – The Brightside Ground, Bristol –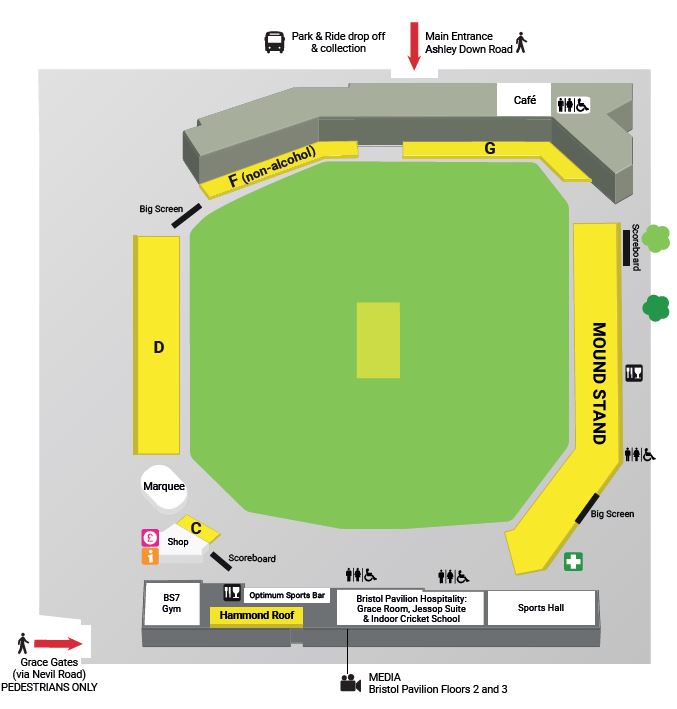 Food and drink
CASH ONLY bars will be open throughout the ground.  For those wishing to withdraw cash on the ground, there is only one LINK cash machine for public use which is located in the Main Office Reception area.
The food courts around the ground will offer a variety of food and drink options and there will also be ice cream vans on site.  A vegetarian option will also be available.
No alcohol can be brought into the ground for this match.
Cash
Please bring cash with you to the ground as the majority of the food and drink outlets are cash only.
Entertainment
When you arrive make sure you keep an eye out for the FREE goodies on offer, such as 4 & 6 cards.
Stewarding
For this International fixture we have increased the number of stewards in and around the ground. A Police presence will also be in and around the ground.  We would ask all visitors to respect our local neighbours and leave the premises quietly at the end of the match.
Refund
For information on ticket refunds please click here
Contact Details
Please feel free to contact the club with any feedback, or questions, on 0117 910 8000 or via email info@glosccc.co.uk.
How to get involved
There are many different ways that you can get involved with Gloucestershire Cricket. You can sign up for our newsletter to keep up to date on the latest news.
You can also follow us on Twitter and Instagram and like us on Facebook for exclusive Gloucestershire Cricket content.
Future matches
England return to Bristol on Sunday 24 September to take on West Indies. Click here to book tickets.
---